If you love the idea of new VR experiences, Shooty Fruity is definitely one game you don't want to miss!
Getting to grips
As with any VR game (or any game at all in fact) Shooty Fruity offers a basics guide which you'll have to bend down to grab off the table in front of where you start out. This, along with someone giving you a pep talk over the supermarket tanoy gives you the essentials you need to get going with Shooty Fruity – personally I think this is enough of a tutorial, figuring out what you need to do in a game is half the fun.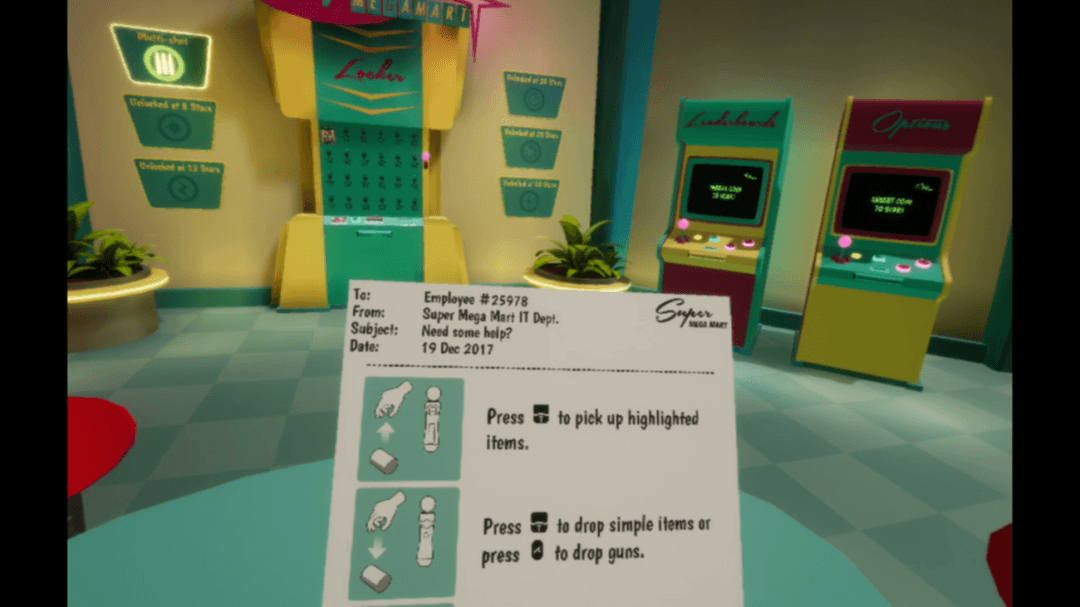 It all began at the staff room
After you've read your instruction sheet you're prompted to get going pretty much straight away which I think is great.By pressing X on the motion controller you'll be taken from the starting point to the screen below which essentially shows you the levels you've unlocked as you progress through the game. while in this huib area you'll also be able to have a practise with your shooting skills before you try a main mission. Once you unlock new levels your goals will get more challenging and the environments will change around you.
Once you select a level you'll need to physically take a time sheet/ticket and place it into the slot in front of you, pulling a pink lever to activate your mission.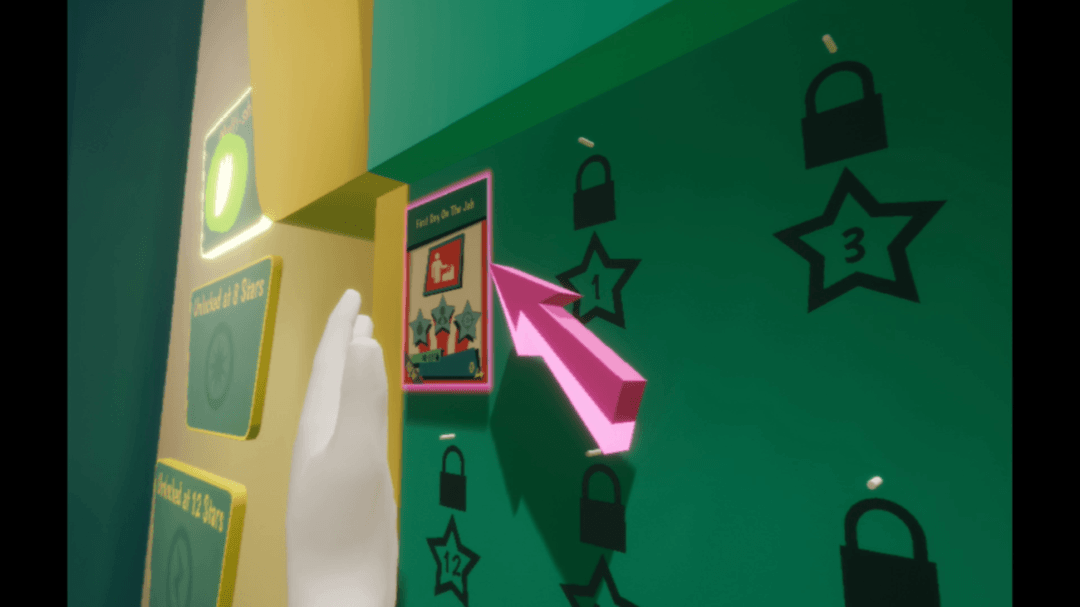 Get scanning
At the beginning of each mission you'll be given a list of targets you need to hit such as scanning a certain amount of items, and you'll need to smash these targets in order to progress to the next level.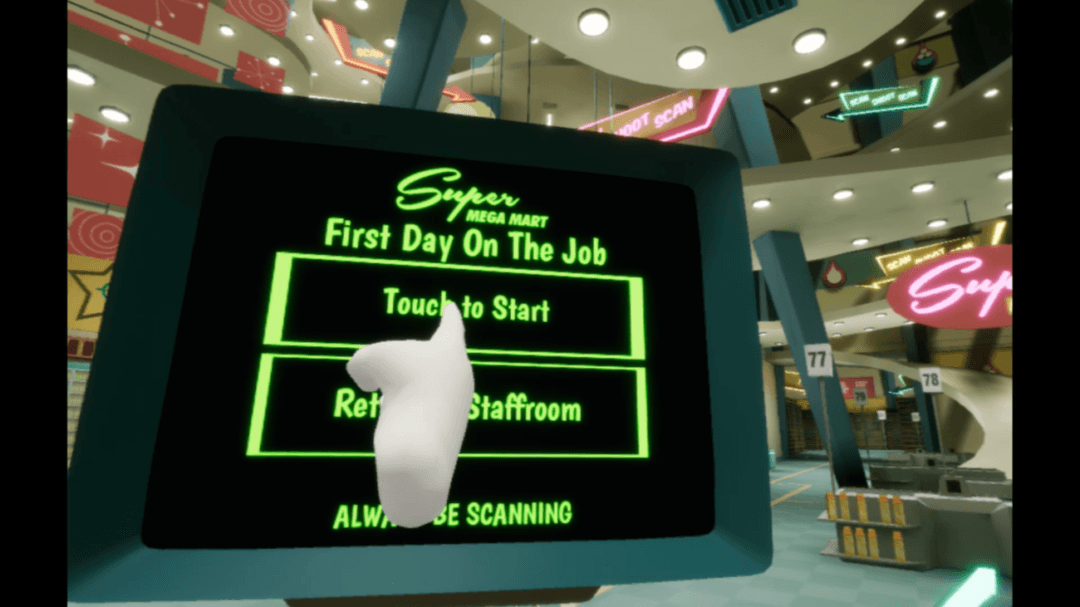 As easy as scanning the items coming along the conveyor belt and throwing them into the shoot alongside you sounds, combine this with taking a weapon above your head to defend yourself against various fruits coming to get you and it's a whole different ball game!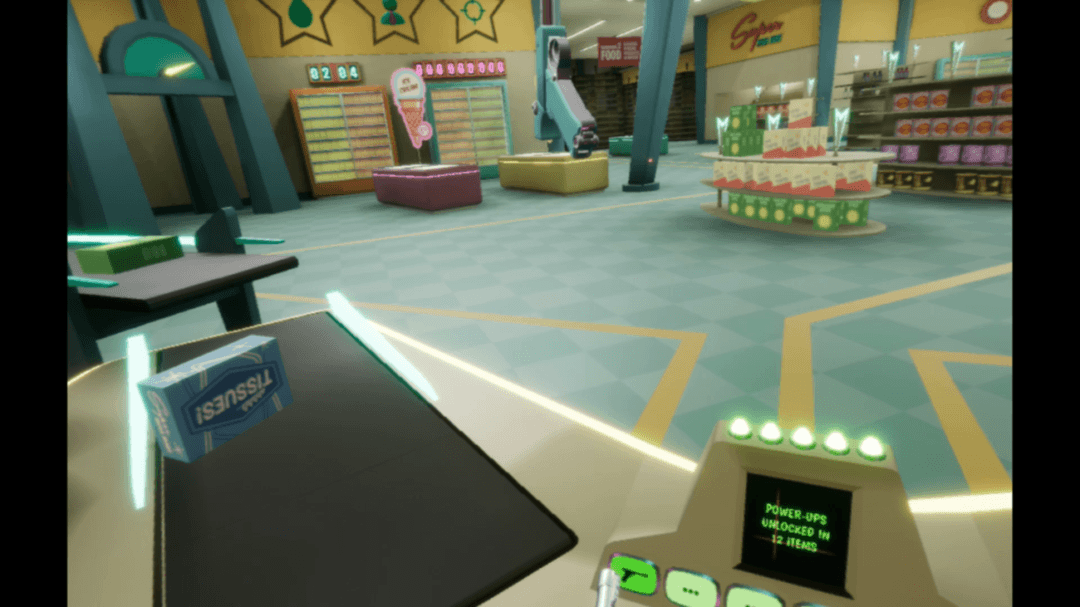 Choose your weapon
As you scan more items you'll find that the weapons coming along the line above you get more powerful, which is certainly needed to get rid of some of the larger fruits coming for you.

Shoot that fruit!
As well as scanning your items, you need to make sure you shoot the fruit before it reaches your checkout – I mean these apples may look pretty cute but they're out to try and destroy your checkout!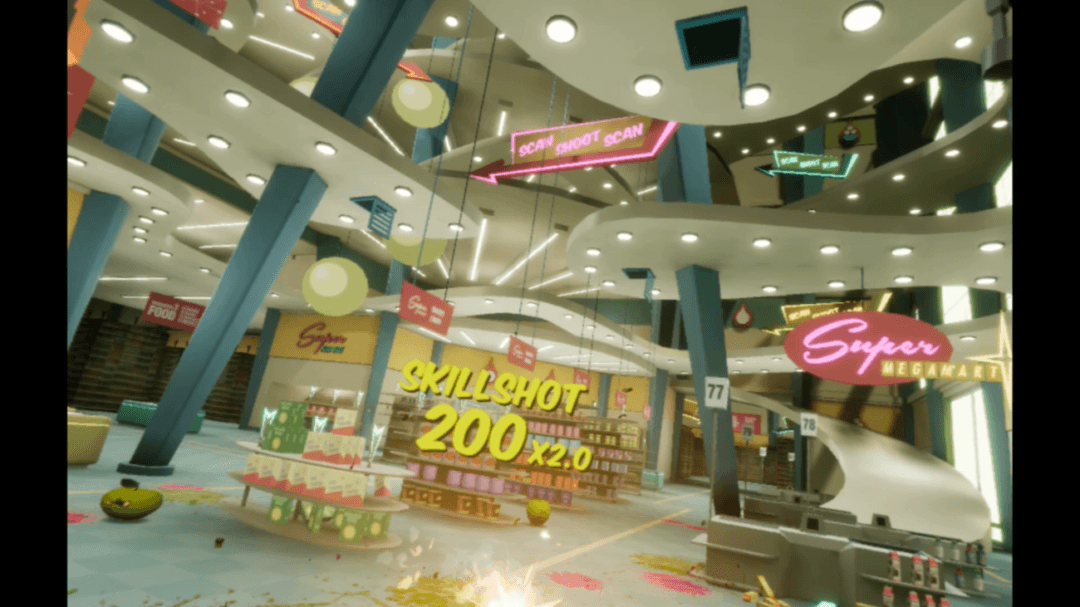 Visuals/audio
From a VR perspective I think this game looks crisp and fairly amazing to say the least.Add in the sounds of explosions, gun shots and splatting fruits and you are well on your way to being immersed and forgetting about what's happening in the real world.
Gameplay concept
The idea of this game is genuinely real imaginative, I can easily spend an hour or two on this no problem as it's highly addictive from the moment you start playing it. There's that element of shock when you might have missed a fruit that's about to land on your head, and there's definitely that "got to do better" type feeling when you haven't hit the scores you wanted to at the end.
Star Struck Rating
This game gets a solid 9/10 as it's flawless, I've really struggled to find anything I don't like about this game and I look forward to seeing what else the guys at Ndreams have in store for the future of Shooty fruity and any other games that may follow.