In 2016, Supercell launched Clash Royale, a unique PvP experience with fun progression and exciting strategy. It was the second game set in the same universe as their original Clash of Clans. Six years later today, Supercell has yet to launch another Clash game despite their announcement of three in development in 2021.
One of which, however, is now currently in beta. Clash Mini, Supercell's take on the auto-chess genre, is a simple and unique strategy game with a set of old and new characters. The object of the game is to win three rounds against your opponent by fighting it out with your selected Hero and Minis. At first glance, it's not what you may expect when comparing it to other auto-battlers and even previous Clash games. But it's that which sets it apart that makes it a joy to play.
How Does It Compete?
When starting the game, and even before, you can see the stark difference in appearance from other games alike. As its title may imply, the whole game is focused on this "mini" ideal. Not only does that mean that the characters are miniaturized versions of the originals, but stat values, currency amounts, unit progressions, and even their Seasons are generally smaller. Clash Mini's Archer Queen, for example, has a DPS starting at 1 and ending at 1.3 when max level.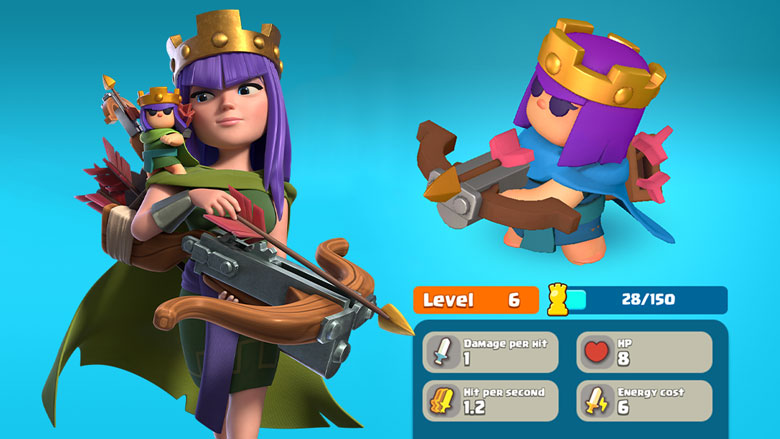 This, in combination with the (almost cute) game design, is what will attract players that normally wouldn't take interest in a strategic auto-battling board game. For new and current players, this makes it easy to understand the game mechanics, memorize damage values, and put together characters for a deck you actually understand. There's not an overwhelming amount of information you need to soak in before you feel like you're good at the game.
The gameplay also introduces some simple and exciting factors that can make it feel more casual. Instead of items, the game has special tiles on the boards that can buff the character placed on it with things like increased energy, health regeneration, and more. Then there are some critical hits and abilities activated at random bringing some luck into the game that will put you on the edge. Whether that's in a good way or bad way, is dependent on the player. It can be very frustrating for competitive players that can't predict when certain actions will take place. For some matches, it can all come down to a chance you don't have much control over.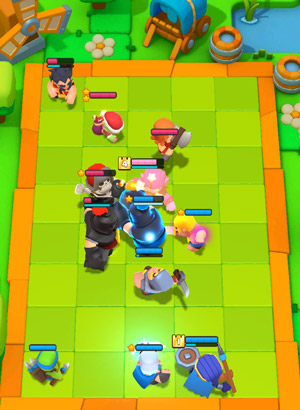 Others, though, may enjoy the excitement of landing a hopeful hit or watching the match unfold without knowing which side will take the win. However, it still allows for strategies and certain knowledge of the game to surpass others despite the luck. As of now, the biggest issue with the game is how difficult it is to balance since there's not too much to play with in terms of characters and their stats. For it to succeed, it will need some sort of reliable way to add new units without breaking the game.
Will It Be Enough?
Clash Mini is definitely not the typical auto chess and is still not ready to be released globally. But with new additions to the game, it could be a fantastic mobile game for Supercell and their fans. With their testing of characters, challenges, and balance changes during the beta. They're able to have a better outlook on how to handle a game like this with a large audience.
Supercell is setting up the game for success in the nature of what it is. The casual aspect of it all might deter some high-level players you'd see from Clash Royale, Teamfight Tactics, and others. But because of this, it can bring new types of players that just want to enjoy a couple of matches during their day-to-day, especially by being a mobile game.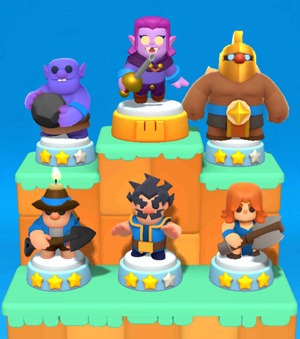 Will it be suited for eSports and long-term competitive play? Not as much as others. But it has the potential to be so in a different way. Beta players are already hosting tournaments with large cash prizes. People are pushing leaderboards to be on top. And creators are sharing tons of their best strategies and decks on websites and YouTube. These things can all be done by the vast amount of people that can enjoy the game in a multitude of ways.
Where Is It Heading?
Clash Mini is still in beta, and probably will be for a while. But so far it's been well-received by the community that's been able to play it. Looking to the future, we'll be seeing new Seasons, characters, game modes, and possibly some more tournaments as the game launches. The team behind the game will most likely continue to test things out as they should. I think there will be many improvements that should make it just as long-lived as Supercell's other games like Clash Royale and Brawl Stars.
Should you play the game right now? Sure, if you want to get ahead of the curve and learn the ins and outs of the game before it launches now is a great time. But don't do so if you're not willing to give it another chance once it launches. It still needs some work to get it into a state that'll keep a player's interest. Overall though, the game has immense potential to be Supercell's next Clash success like the one before it. For this and the other two games coming out, make sure to sign up to get notified when they'll be available in your country at clash.com.