The Sea of Thieves Hungering Deep update sounds Mega..lodon
From what we've seen, heard, and been teased from the Sea of thieves website, the new Sea of Thieves Hungering Deep update looks to bring us a spanking new AI fear factor to fellow pirates. Specifically a cycloptic pirate tells the tale of a terrifying creature that can take down an entire galleon with just one bite – the only way to satisfy this creature's hunger is via a blood sacrifice. Any volunteers!?
A fitting description taking the above into account would suit that of a megalodon, I for one feel getting bitten by the average Sea Of Thieves shark is bad enough, especially when it ends up with a trip to the Ferry Of The Damned. A megalodon is a whole different ball game.

When can you get your hooks into the Sea of Thieves Hungering Deep Update?
Before you raise the sails and lower the anchor its a no brainer that you'll want to find out when you'll be able to get your hands on The Hungering Deep DLC, the good news is there's not too much longer to wait.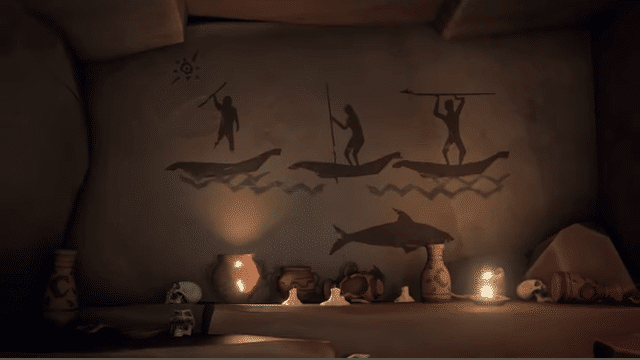 The Hungering Deep DLC will be readily available from the 29th May, there'll also be a pint of grogg waiting for those who fancy their chances at getting drunk.
What's next for Sea of thieves?
If your telescope hadn't spotted this already, the news you'll want to hear is that Sea of Thieves is going to be getting plenty more DLC for your hard-earned booty over the coming months.
Keep your eyes on the skies as we'll be keeping you posted as and when info on the next update becomes available – another six to be precise.
Looking for a Sea of Thieves Hungering Deep Update guide? It's on its way
We've put together a handy step by step guide which will help you along your voyage to summoning the fearless megalodon, watch this space as we'll be posting a link to the guide when its ready!