Voted one of the best gaming headsets for the past two years, the Steelseries Arctis 7 has definitely been the best headset I've had the pleasure of using for a while now. here's my Steelseries Arctis 7 review showcasing everything the headset has on offer.
Steelseries Arctis 7 review – Sound
One of the most basic features gamers tend to look for when choosing a new headset is typically something that offers sound that immerses you in the game you're playing. If that sound provides the effects of bullets whistling past your head in COD or footsteps creeping behind you in Resident Evil then you know you've got a fairly decent headset.
I generally have my headset connected to my PC (via the transmitter) as I output my games via a game capture device, and I can therefore leave my headset setup rather than having to change the config when changing from PC to console. The Arctis 7s use the same S1 speaker drivers that are used in Steelseries higher-end headset so you can be sure you're getting a pretty sweet audio experience.
Using the Steelseries engine on PC enables the customisation of equalizer settings for the headset etc. although different gamers will have varied opinions on the best settings to use. The headset uses 7.1 virtual surround sound to deliver that immersive experience, but sometimes i find using the headset in stereo is often just as good.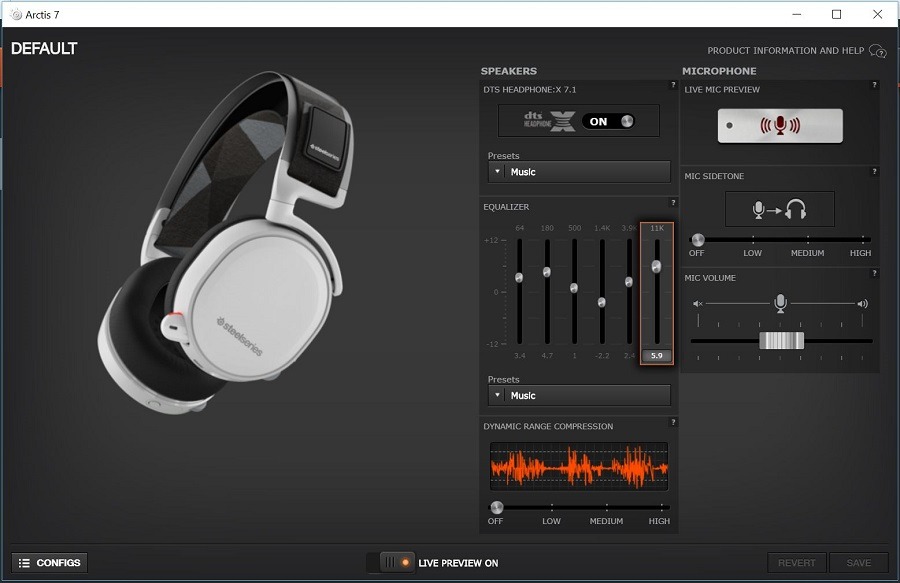 Steelseries Arctis 7 review – Connectivity options
One of the things i try and achieve with any new piece of tech is reducing the amount of cables it takes to run the equipment, although I realise for many gamers wiring doesn't really bother them – each to their own of course. For me though, the fact that the Arctis 7s promised 'lag free' sound when using the headphone's wireless was a real tick in the box. I've been using these now for several weeks and I can openly admit I have had no breaks in the audio whatsoever.
When using the headset with either PC, Mac, or a PS4,a wireless USB transmitter needs to be connected to easily stream the audio from your chosen platform. If using Xbox One however the headset would need to be connected using an AUX cable, in my eyes this isn't too much of an issue.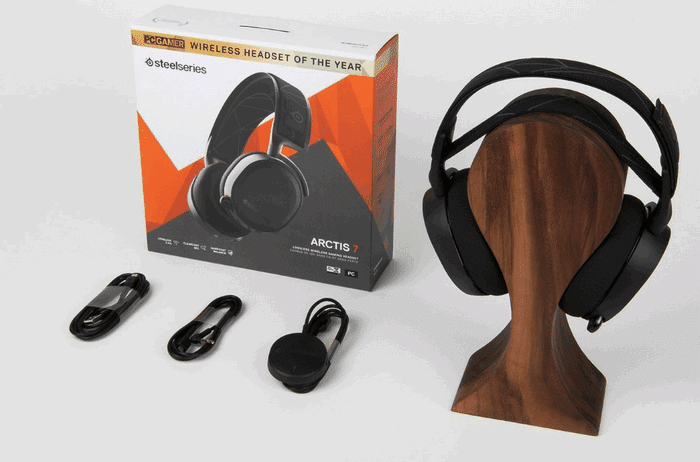 Steelseries Arctis 7 review – Comfort/style
I'm pretty confident that I can speak for the vast majority of gamers when I say that comfortable headsets are just as important as a headset that sounds great. With the hours of gaming I put in I generally needed a headset that was not going to provide comfort only when I first put them on, but was going to feel just as pleasing after several hours of grinding through Assassin's Creed Origins.
The Arctis 7s definitely deliver on this through using the ski-goggle adjustable headband by balancing the pressure evenly when worn. Combine this with the super soft AirWeave cushions and let me tell you – you're in business.
The headset comes in both black and white colours, I have the black and haven't tried the white but I'd imagine the white may get dirty fairly quickly.
Steelseries Arctis 7 review – Microphone
As someone who likes to stream on Twitch and record playthroughs of games to upload to YouTube, I really wanted a headset that I could ideally use to record commentary instead of using my Blue Yeti bi-directional microphone, and with the ClearCast mic that the Arctis 7 offered I thought I might just be in luck.
After carrying out some testing, playing around with some settings, and changing the position of the retractable microphone my overall verdict wasn't too impressive. The mic doesn't sound hugely bassy, I mean fair enough it's better than other headset mics I've tried but it's just not up to the standard needed for recording. Back to using the Yeti I guess!
Star Struck Gaming is a participant in the Amazon Services LLC Associates Program, an affiliate advertising program designed to provide a means for sites to earn advertising fees by advertising and linking to amazon.co.uk