Here at Starstruck gaming we have always stood by that graphics don't make the game, they may help with the depth of a game and help pull you deeper in but with out gameplay great graphics are meaningless. So with that little statement out of the way we would like to bring your attention to a game that may have slipped under your radar, a game you may have glanced at in the PlayStation store and thought wow that looks like something from a commodore 64 era. The funny thing is that's exactly what it looks like but don't let that fool you as I am about to explain. Bring on the Broforce PS4 review.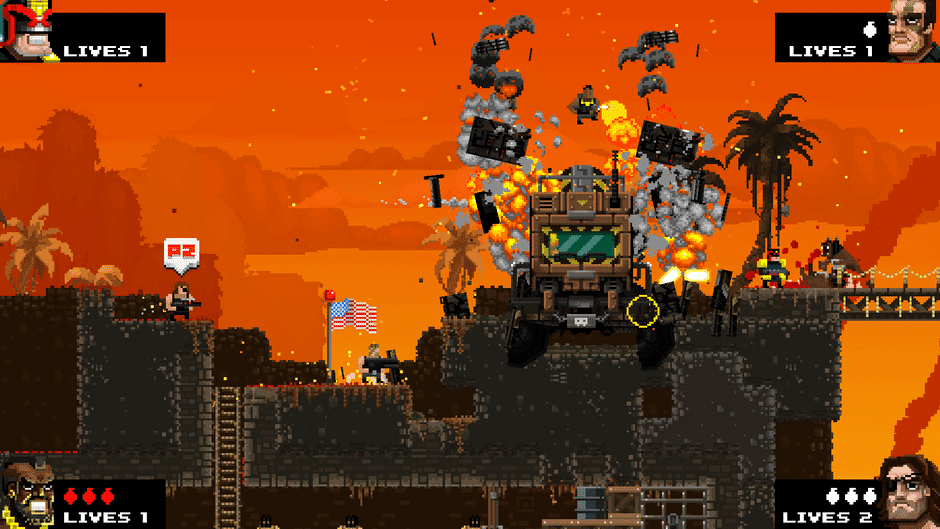 So what is Broforce?
Broforce is a side scrolling shoot em up that as you may have noticed looks a little rough around the edges, but please don't let this fool you as what lies beneath the slightly pixelated graphics Is some of the best gameplay you will ever come across. You make your watch around the world as part of the fictional Broforce lead by a seriously patriotic general taking down 100s of terrorists and regime's sounds fairly big standard so far right? Well read on.
What it does not tell you is that you start as a Rambo looking character; red bandana, large gun and grenades and you have unlimited bullets and collect your ammo that will top up you special move – in this case large explosives. You make your way around the levels climbing ladders, blasting through rocks, using your knife to climb walls and dispatch bad guys. Your aim is to save all the prisoners around each level.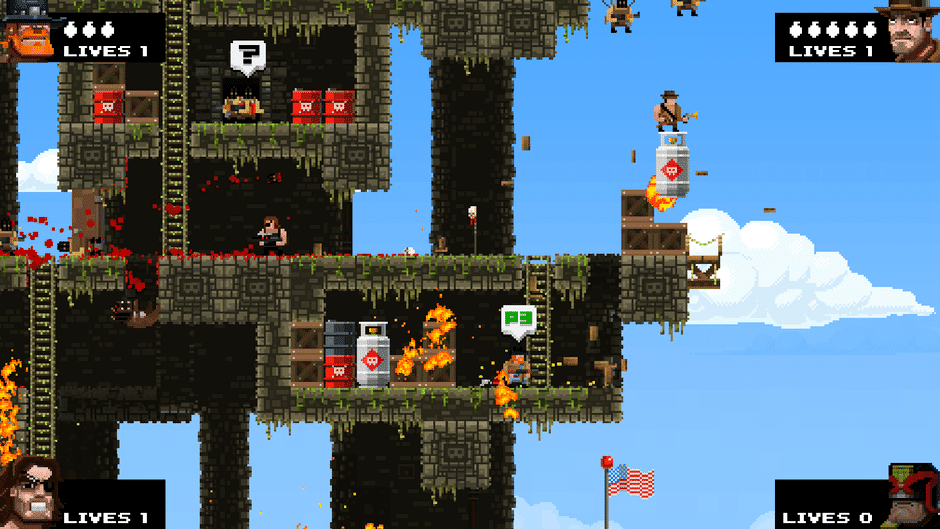 Here comes the fun
Now the really fun part; the more prisoners you save the more Bros you unlock and each one is linked to a film character in special moves and looks from Bro Willis in his white vest, to RoBrocop, the Brondock Bros right to Conan the Brobarian. Each have their own special moves from homing rockets, sword blasts, whips, airstrikes even MIB Bro has a noisy cricket weapon!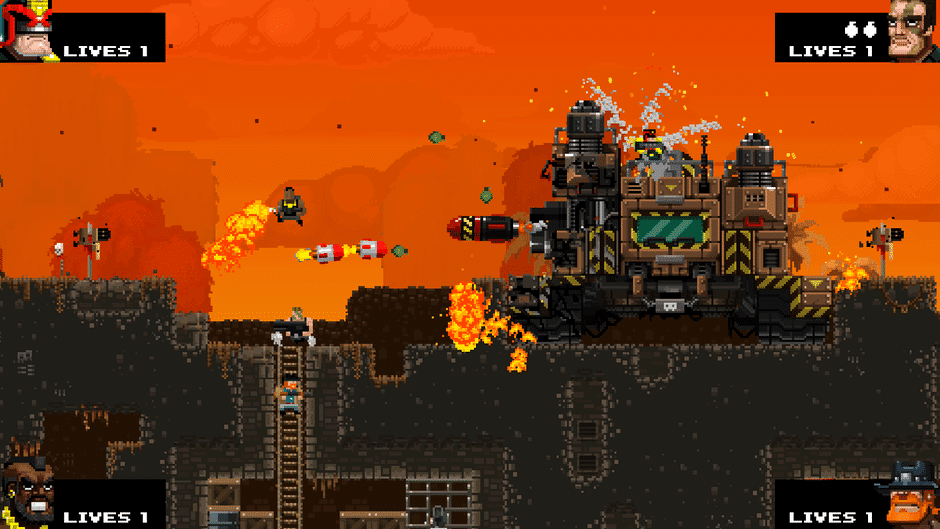 All these moves and weapons are needed to take down ever increasing bad guys from suicide bombers, mini gun toting muscular bad guys, rabid dogs, rocket launchers, attack dogs and xenomorphs ( that's right Aliens)
The action explodes across the screen and literally screams one more go as you fight to unlock the next character. You even get chances to man mini mechs to help you take down what being thrown at you and we haven't even mentioned the bosses yet!
The bosses are huge and fill the screen. They unleash hot lead fury rockets and bombs at you to take you out, these can be taken out in a variety of ways. You have to solve one involving hitting exploding gas canisters that fly off in a brilliant slow motion effect.
The Broforce PS4 review summed up
As you can guess I cannot recommended this game enough and to top it off it has online 4 player co op and same room co op which ramps the fun up even higher. So ladies and gentlemen if you are looking for something different from your average game and want to pay with friends without paying a fortune this is the game for you
Devolver Digital has built something with love and which will keep you coming back for more, and thus that wraps up our Broforce PS4 review.