Here's what we know about the leaked Red Dead Redemption 2 Map
We are literally a mere few days away from the release, but it seems that both Twitter and Reddit users have taken to revealing the fully fledged Red Dead Redemption 2 map.
Spoilers follow – you've been warned
We already know that the Red Dead Redemption sequel will contain a fair portion of that from the original map, which will essentially be everything from Mexico northwards. Armadillo (the starting town/region), Tumbleweed, Blackwater, Tall Trees, Macfarlane's Ranch, Fort Mercer and of course Thieves Landing;.
Big Red Dead fans will already know that RDR2 is a prequel to its predecessor which means its likely we'll see the town of Tumbelweed prior to it becoming emptied to a ghost town. Remember Bonnie Macfarlane? Well with the game's setting being before the events of Red Dead 1 we'll probably have to visit Macfarlane's Ranch to pay a younger version of Bonnie a visit.
Most of the areas mentioned above are highly likely to be a lot less built up with the good ol Western Frontier enforcing the cowboy civilisation into the plains.
https://twitter.com/Gyloir/status/1054434431258234880
It's tricky to know the true scale of the map, but what we do know is the top-right area of the map looks to be brand new and bigger than the original title which included Mexico.
One of the less favoured parts of the original Red Dead was certainly that of the Mexico area, so the fact that its not inclyuded in the Red Dead Redemption 2 map won't bother people too much. You'll remember spending countless hours in the Mexico region just hanging around fighting enemy after enemy for both sides of what seemed like an unending war.
Looking for something more visual? Reddit user tomcruise_momshoes has already got you covered, splicing a variety of map graphics to make up the image below: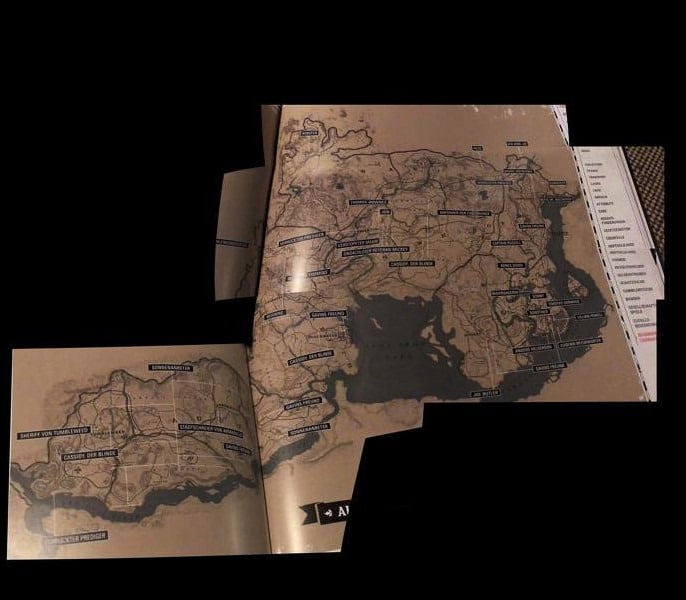 When you do a comparison with the Red Dead Redemption 2 map that leaked online a couple of years ago, it shows that a lot of the new areas prove pretty accurate from the two year old image.One of the main differences though is back in 2016 when this image leaked, less of the map from Red Dead 1 including Tall Trees and Blackwater was set to be a part of it.
It was also only a day ago that we were provided with the very first Red Dead Redemption 2 gameplay leak – lets see what comes next!