Well well, the day has finally come. We've seen the launch of the SNES and NES Mini consoles and it was only a matter of time before other big consoles followed in their footsteps. I must admit though personally i thought it might be an N64 mini or something similar before the PlayStation Classic Console.
For those who aren't aware, these new line of consoles are essentially mini versions of the original retro consoles with updated hardware, no discs or cartridges needed.
What's the PlayStation Classic Console got on offer?
to begin with, the PlayStation Classic Console comes bundled with 20 games, no not discs, we're talking 20 games that are saved to the console virtual memory card so will be easily accessible.

the console is designed to be almost half the size of the original PlayStation console, and is instead 45 percent smaller than it's daddy. The controllers are replicated to match the plain but nostalgic grey of the original console too. Controllers will be wired, and where the memory card slots would normally be on an original console, they've replaced this with two USB ports to power the pads.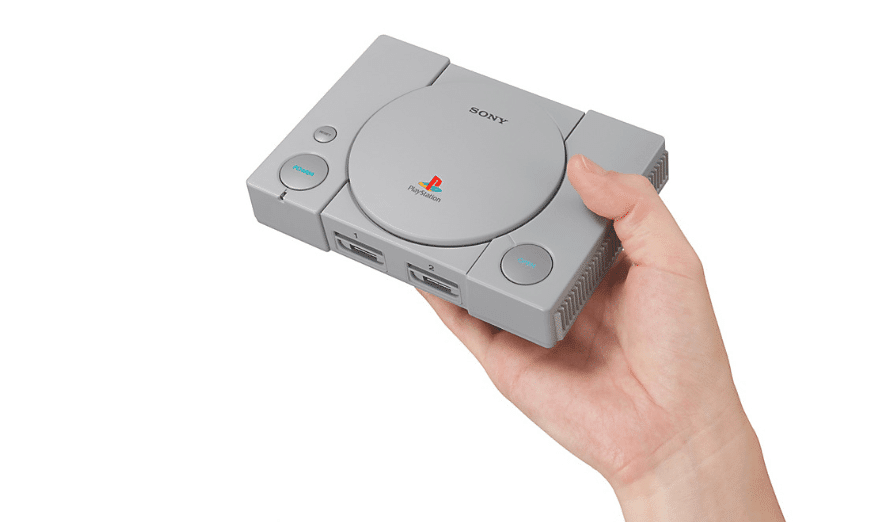 Unlike its predecessor, the PlayStation Classic Console will feature a HDMI port rather than an aerial connection, and comes bundled with a HDMI cable and a USB power lead. You can buy an AC power adaptor separately.

When can I get mine?
As Sony usually does pretty well, they've announced that the PlayStation Classic Console will be available on december 3rd, the same day the original console was released in 1994 – pretty clever there Sony.
Come on then, how much are we talking…
Sony have gone in at a reasonable price at £89.99 to secure a PlayStation Classic Console at launch which we feel is fair in comparison to what the SNES and NES Mini consoles were launched at.
Buy the PlayStation Classic console on Amazon
---
Now and again we include links to online retail stores, and if you click through and make a purchase from this we may receive a small commission from the retailer.