Okay I get it, the Assassin's Creed Origins DLC has been around for a few months now so by no means is it a new game, that's not to say it isn't stunningly pleasing or an enjoyable title though. Some might argue that it's repetitive or dead in the water with some of the games coming out, and that might be because they can't be bothered to level up in order to play some of the missions to advance through the game – I totally understand.
The Assassin's Creed Origins DLC makes it look intentional
Plodding along, level by level I reached level 26 which to be honest I was pretty content with as it meant getting value for money in terms of a game that I could keep on playing. I game share with a friend and he purchased both the Hidden Ones as well as the Curse of the Pharaohs DLC, of course this meant that the DLC was automatically downloaded for me to play when I was ready.
The thing with the Curse of The Pharaohs DLC is you need to be level 45, no point buying DLC if you can't play it I guess?
I reached the main menu and bam!
I had about a week break from Origins while I played some of the newer titles hitting the consoles, and on loading up the game where I selected a save slot there it was – the word 'BOOST'.
I hit Y and it loaded me into Ancient Egypt where I was instantly raised to level 45.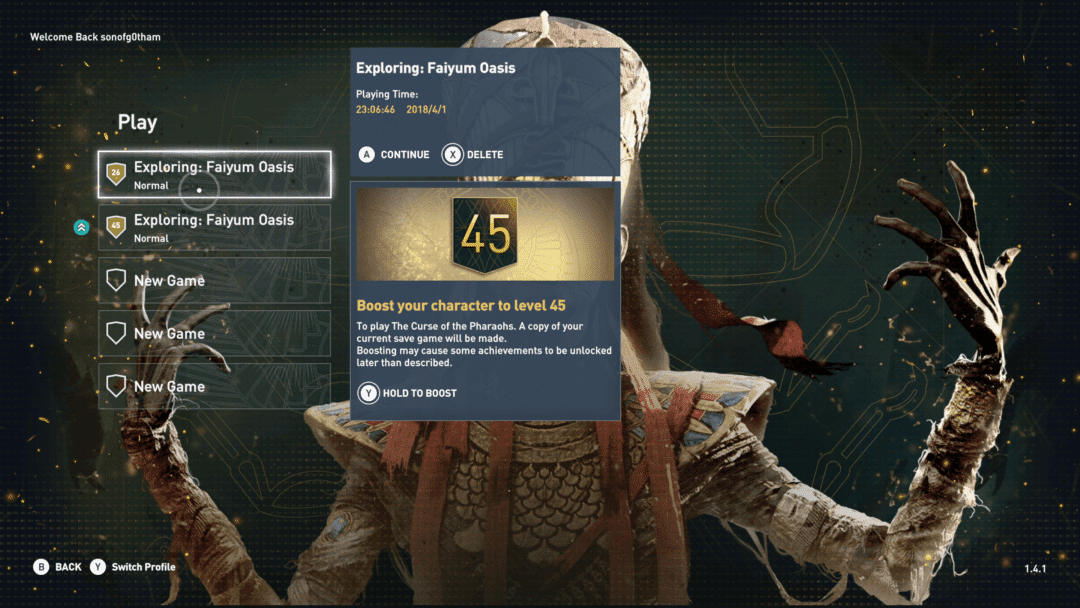 How it seems to work…
After you've boosted to level 45 the game creates an entirely new save but retains your previous save, I guess in case you want to go back and for some reason take forever to level yourself up the hard way.
When you are loaded into the game following the boost you'll start at the exact same position as your lower level save was at, meaning if you've got lower level missions to do you'll have no problem completing them.
Once you do boost you'll also be awarded with ability points to correspond to the level increase – which is a nice little bonus.

Egypt is in your capable hands
In a nutshell, if you were likely to purchase the Assassin's Creed Origins DLC regardless then I'd say go for it and level up to play it. If this is a game that's been sat on the shelf for a few months because you can't really be bothered to do all the levelling up, then sure go ahead, level up and polish the main story off.
On the other hand, if you want to face the challenge, not fork out any more money, and play the game how it's meant to be played then this isn't the option for you.
With the announcement of Assassin's Creed Odyssey you'll want to ensure you finish off Origins – the level up makes that possible, and much faster!