If you were old enough to remember the original Abe's Odyssey on the PS1 in the 90's, you may have caught the Oddworld bug and followed the games that followed such as Abe's Exodus and Munch's Odyssey. Stranger's Wrath followed and then we arrived at New 'n Tasty, and from the new Oddworld Soulstorm trailer we can see that the game is set to follow the events after New 'n Tasty – I'm personally not complaining.
Much like it's predecessor the Oddworld Soulstorm trailer shows us that we can look forward to more chanting and saving Mudokens, side- scrolling and puzzle solving that Oddworld fans know all too well. This time however Oddworld Games (or Oddworld Inhabitants), the game developers have put a spin on the usual gameplay by by building an empire on Scant resources and a more direct focus on managing crowds in the far-fetched industrial environment.
Oddworld Soulstorm trailer – just an Exodus remaster?
Many fans will have heard that Oddworld were investing time and money into a 'sequel' to New 'n Tasty which was essentially a remake (not remaster) of Abe's Odyssey, with several in-game additions to the original. If that sounds good to you then it does sound like Soulstorm is going to be a remake of Exodus, again featuring a wealth of improvements to the original.
The guys over at Oddworld inhabitants have communicated plans to create an "Oddworld pentalogy", meaning that following the release of Soulstorm we could essentially see another three additional titles that follow to pull the collection together.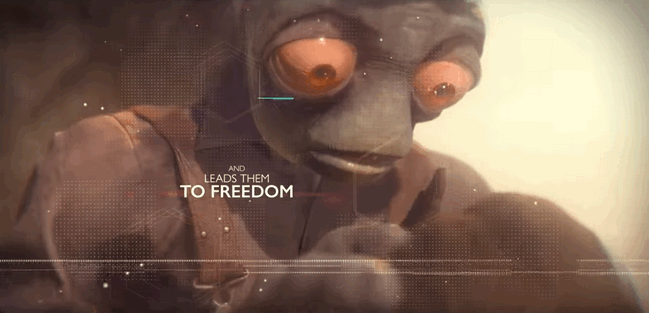 Although Soulstorm is following the lines of a remade Abe's exodus the Oddworld Soulstorm trailer shows a familiar factory setting, which teases camera panning and a fully rebuilt environment which certainly makes it look more appealing.
If you've played Abe's Exodus recently you may recall that Soulstorm was a beverage that proved highly addictive to the factory workers which was brewed from the bones that remained from their Mudoken ancestors. A recent press release describes the beverage appearing in Soulstorm as offering the consumer "insidious ramifications for their newfound freedom". Although not shown in the Oddworld Soulstorm trailer, the press release states Abe and his pals turn to the Soulstorm beverage as a means of comfort after they get stranded in the desert.
Now, to track down a can of Soulstorm until the release drops next year…