E3 2019 is already heating up rapidly with the reveal of the very first Star Wars Jedi Fallen Order trailer showing a short glimpse of what's to come in a gameplay tease. When we say a glimpse, we really aren't kidding. The teaser in question is a mere 3.5 seconds in length which comes from EA and Respawn Entertainment's Star Wars twitter channel. Fallen Order is one of the biggest games players are looking forward to for E3 2019, so even the tiniest Star Wars Jedi Fallen Order trailer is kind of a big deal.
The Star Wars Jedi Fallen Order trailer tease emerged shortly after a more in-depth look at the upcoming title was shown by Game Informer. Along with the tease came the cover art shown below which is going to have a pit, much like the pit Boba Fet submerged into in Return of The Jedi.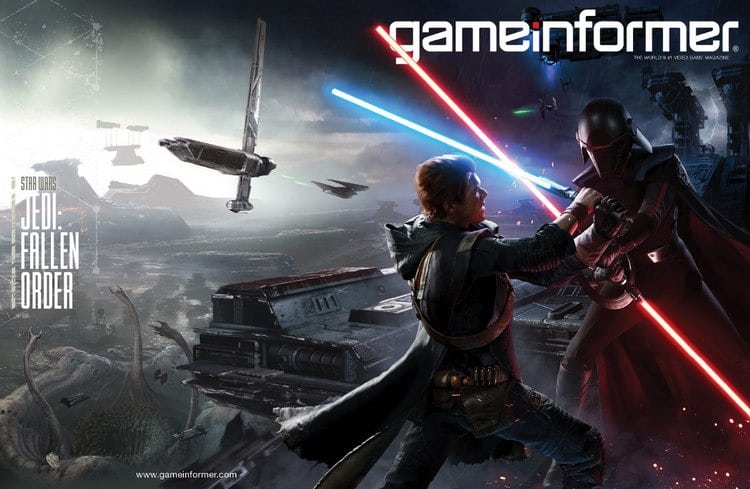 Star Wars Jedi Fallen Order trailer breakdown
The Star Wars Jedi Fallen Order trailer can be broken up into two parts, with the first showing us the cute BD-1 droid climbing aboard Cal Kestis' back – BD-1's robotic joints aren't the strongest in comparison to others droids, so it's nice to see it being given a helping hand. Kestis then communicates saying "Come on, buddy," with a response coming from BD-1 with a few little bleeps – not quite as pronounced in comparison to BB-8 perhaps but still quite adorable.
Taking the second portion of the gameplay Star Wars Jedi Fallen Order trailer into account we see Cal making his way up some mesh grating just as two TIE fighters go flying above Cal's head. The location Cal just left appears to be being watched by someone, and if previous game styles are anything to go by whoever is guarding is about to be taken out or thrown overboard.
One day until the gameplay reveal for #StarWarsJediFallenOrder.https://t.co/9vxefcd3Su pic.twitter.com/QjkgNQ1ExW

— EA Star Wars (@EAStarWars) June 7, 2019
The big E3 2019 events begin today, so make sure to check out the E3 2019 press conference schedule so you don't miss out!