The Squad Building Challenges are back yet again with FIFA 21, the latest addition in the FIFA franchise. And similar to the past, FIFA 21 SBCs will give you the freedom to build your exclusive Squads with the use of Players that fulfill the requirements for the wide range of challenges.
So to earn yourself those splendid rewards, we'll be going through what there is to know about these challenges and some tips to complete them the best way you can.
To start, each SBC comes with set instructions and requirement criteria for the rewards. The requirements are mainly comprised of the Clubs, Leagues, Player Quality, Rating, Squad Chemistry, and Nationalities. So the best approach should be to sacrifice any unwanted cards or browse through the Transfer Market.
It is ideal to meet only the minimum requirements and to have an understanding of the ratings and chemistry of your players. This way, you will end up saving tons of valuable coins all while improving your odds of completing the challenges.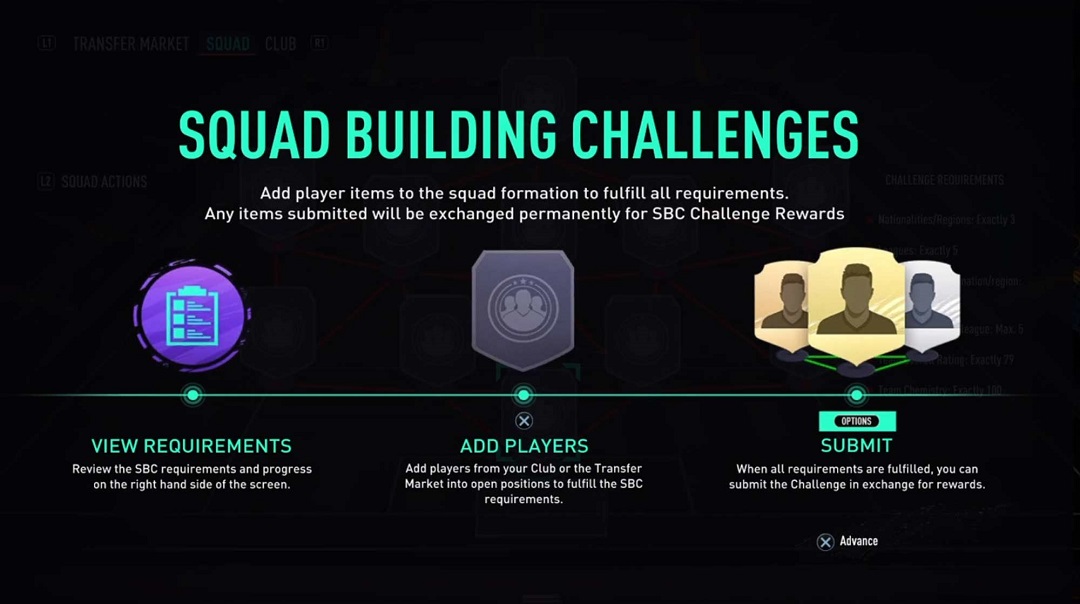 One point to be aware of is that challenges come in two general types, the ones that are available around the clock and the others with limited accessibility. So in order to maximize your earnings, it is ideal to prioritize the limited challenges before their expiration dates draw near. Although, you can rest easy if you don't finish because your cards will be refunded if you fail to complete them on time.
There are some challenges that players can go through multiple times in hopes to receive a different reward with each attempt. And aside from a select few SBCs with one Challenge only, there are few SBCs that offer numerous challenges with separate rewards for completing each.
It is important to note that the submissions for the SBC are final, meaning the items you submit after completing your SBC will get permanently removed from your Club in exchange for the rewards. This makes it crucial to think over your approach and choose the players formation wisely for the challenge. However, you can make use of the SBC Protection system to mark your best players from getting submitted by accident.
Another component to be aware of is that even though SBCs are accessible across all platforms, the rewards might be different for each depending on the Challenge.
To get to FIFA 21's SBCs, they are available in the main menu of the FIFA Ultimate Team section. Just select the challenge you want and you are ready to go.