Much like the reveal last year of the Shadow of The Tomb Raider roadmap from last year, the Apex Legends roadmap gives us a better idea of what to look forward to for EA's latest Battle Royale title.
To avoid gameplay becoming stale and to keep the player base thriving, Respawn's Apex Legends roadmap has already dropped the details. They have stated that they'll be offering an Apex Legends Battle Pass in addition to regular Seasons updates.
There haven't been masses of details released so far, but it's fair to expect that new weapons and Apex Legends attachments will be coming, in addition to new character classes and stats.
Respawn has also talked about the ability to support Apex legends cross play between consoles and PC, saying it's not here yet but it's on the way.
Apex Legends Roadmap 2019 details
Thanks to a post by Purpletoaster20 via Reddit, we have a good idea what the Apex legends roadmap is likely to include.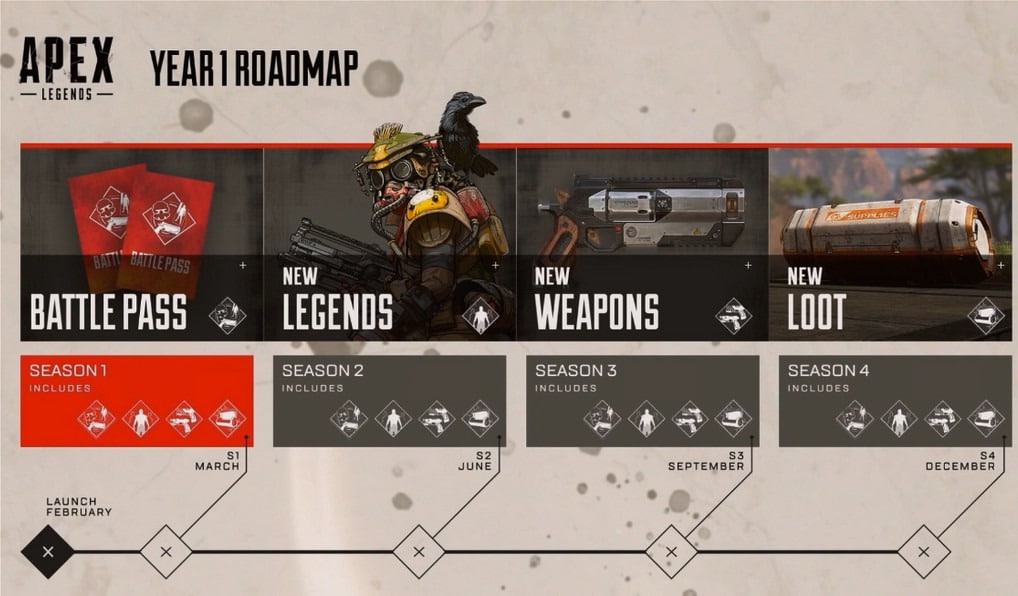 The image above speaks for itself, but essentially it tells us that:
In 2019 the first of four seasons are due to launch sometime in March
As seasons are released/updated they will last for a total of three months
In addition to additional weapons, attachments and Apex Legends character stats there'll also be a Battle Pass per season
Timings wise for the Battle pass, the image from Respawn shows:
March will see the launch of Apex Legends Season 1
June will bring home Apex Legends Season 2
September will launch the third Season
The final Season (Apex Legends Season 4) will release in December
Apex Legends roadmap – Battle Pass predictions
Specifics are still a little thin on the ground right now, but with Battle passes already in existence with other games it's likely to be something along those same lines.
Taking Cod: Black Ops 4 as an example with the Blackout Black Market, it's own Battle Pass type system utilises a progression process which offers everything from weapon skins, emotes, stickers to tags and loot boxes.
Another prime example is that of rival Battle Royale game Fortnite. If you shell out £8(ish) you'll be able to buy yourself 1000 V-Bucks, and with a Battle Pass costing 950 V-Bucks you'll be able to get one with bucks to spare. Parting with your cash will provide exclusive challenges as they launch with each season, in addition to XP boosts and new outfits.
Fortnite uses a tier progression system, and by completing season related challenges you'll see progression soar one hundred tiers/progression levels. Once you hit this milestone you'll gain access to additional axes, weapon and vehicle wraps, emotes, gliders and much more.
The great thing about the fortnite battle Pass is that you'll be re-rewarded with V-Bucks that outweigh what you paid out for to begin with. Even if you choose not to commit to purchase, you can still get your hands on some (not all) of the additional content by progressing your way through tiers by yourself.
Apex Legends roadmap – Apex legends Seasons
Taking Fortnite as a prime example once again, seasons in the game are essentially like a massive event. it'll see a wealth of changes to the environment as well as gameplay, weapons and locations. Seasons in Fortnite launch in unison each time a Battle pass is released.
It's no secret to how well Fortnite is performing in terms of popularity with their player base. Epic have set a standard of how to ensure players keep coming back for more by ensuring content is kept fresh, so it's make sense for apex legends to follow the trend. Of course, who's to say the devs at Respawn won't do things their own way?
Apex legends would be wise to follow the footsteps of Black ops 4 and fortnite by providing a progression path that doesn't simply rely on XP to climb the Battle Pass ladder, again March will tell us more.
It seems as though the Apex Legends roadmap shows the Battle royale title of moving in a slightly different direction to others, but at the same time the game certainly seems to offer everything we could ask for in a Battle royale game. With March being round the corner, time will tell what's in store next for Apex Legends Seasons.
Already in the thick of it in Apex Legends? Why not check out our dedicated Apex Legends Guide for a helping hand. As we know more, we'll update this article with the latest on the Apex Legends roadmap.