I'm sure I won't get any grief when I say Game of Thrones Season 8 Episode 4 was the relaxing episode we needed after the huge battle in the previous episode. Fans and dog lovers alike will have noticed one thing that others didn't in the most recent episode surrounding Game of Thrones Season 8 Ghost  appearance; he was given next to no attention whatsoever.
Before you read on, there are a few spoilers that follow – if you're yet to watch Episode 4 then it's worth stopping about now.
Game of Thrones Season 8 Ghost – where's the love?
As we saw in episode 4 Jon Snow buggered off down south before handing over his beloved dire wolf Ghost to Tormund. This could potentially be the last we see a Game of Thrones Season 8 Ghost appearance, so why did Jon Snow snub him so bad? Was there a whiff of dead bodies coming off Ghost? did Jon simply fall out of love with him? Fortunately David nutter, the episode's director had a Huffington Post interview which gave us a rationale explanation for the cold shoulder.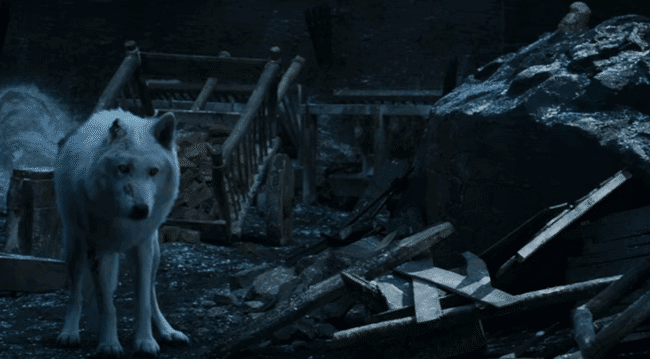 When discussing Game of Thrones Season 8 Ghost Nutter states "Since the dire wolves are kind of CG creations, we felt it best to keep it as simple as possible," "And I think that it played out much more powerfully that way."
He also said "Keeping Ghost off to the side, I thought that played out better," But would it have been that much more work to slide in a few second pet to the fluffy white wolf?
Unless you've studied the reality of dire wolves, you probably won't have known how big the animals really are. The Game of Thrones Season 8 Ghost we see looks massive, but in fact they are only puppies in reality that are enlarged using film scaling effects to make them look as they do in the series. in my opinion it could have gone a long way emotionally for a brief and proper goodbye between Jon and Ghost – although many may disagree and have kept things as they played out.
Kristofer Hivju who plays Tormund gave some words on why Jon and Ghost had to make Game of Thrones Season 8 Ghost final appearance in the first place. "I think Jon is right that the south isn't the place for a direwolf," and that "In Episode 2 or 3 they killed one of them [Lady, Sansa's direwolf] – it's a wild animal, it's like a wolf plus two! I think it's best for Ghost to go north."
And with that, I guess it's time to say farewell to Game of Thrones Season 8 Ghost pup, that's not really a pup while Jon takes on King's Landing.
check out our Game of Thrones Season 8 episode 5 trailer breakdown, and our guides on the best methods to watch Game of thrones Seeason 8.