Grand Theft Auto 5 fans are understandably excited about the latest update for the iconic video game. The Diamond Resort Online GTA 5 Casino has literally been talked about for years, and the opening of the doors has clearly caught the headlines. You can find details about the virtual casino update in the countless articles and reviews written about it, but the news is an interesting development for the traditional iGaming industry. Basically, GTA 5's casino is a glimpse of the field that traditional online casino developers have been working on for years.
To explain, first we must take a step back. The iGaming industry has effectively two main arms: Virtual casino games and live dealer games. The former came about in the 1990s, and it powered online casinos through the 21st century to become a multi-billion-dollar industry. In the last few years, live dealer games – real casino games streamed from studios to your device – have become an integral part of iGaming.
iGaming industry pushing for revolutionary changes
What has this got to do with GTA 5? Well, as you might gather, virtual casino games offer something from the traditional casino industry, i.e. the industry seen in the vast resorts of Las Vegas and Macau, whereas live dealer games are an attempt to replicate that traditional industry. The iGaming industry is increasingly trying to fuse these two arms together.
You can see talk of these innovations on the casino.com blog, which offers a wealth of information on new technologies and developments in the iGaming industry. But what we are talking about is the idea of virtual reality, augmented reality and mixed reality. These are the buzzwords you now hear at the iGaming conventions like G2E and ICE.
The point is this: The industry has been working on ways to move beyond the realism of live roulette and blackjack, and into a more exciting worlds where games can be more like live video games. In a sense, it is the inverse of what GTA 5's update is offering.
Skill games having steady roll-out
In a sense, it is difficult to describe the endpoint of this technology, but we do have some examples of the nascent ideas going beyond prototypes. For instance, Evolution Gaming has live dealer games that can be played out on interactive gameboards. Imagine, for instance, playing on an interactive 3D Monopoly board for real cash with live dealers facilitating the action? That has already become a reality in some online casinos.
And, what we are likely to see is the sort of stuff that will blur the lines between eSports, video games and casino. Already, there are prototype casino "skill games", which tap into the idea of playing video games for money. This is seen as an essential genre to get millennials into casinos – both land-based casinos and online sites.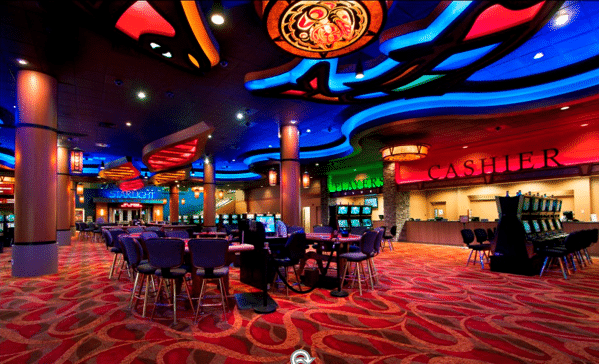 For the iGaming industry, such ideas are key to future sustainability and growth. The likes of blackjack and roulette have remained popular across the decades, centuries even. But the industry actually faces challenges from industries like eSports, which can facilitate things like skin betting among its fans.
As mentioned, the major iGaming conventions are awash with companies like IGT and Playtech touting their future ideas of their industry. Increasingly, that looks like veering away from traditional table and card games, harnessing the power of VR to create casino games that are much more like video games. Some of the plans are incredibly ambitious, and you can be sure that the excitement around them will match anything thrown up by Grand Theft Auto.
What are your thoughts? Let us know in the comments.