Choosing the best board games in 2020 is like choosing your favourite chocolate bar… You love them all but you simply can't decide! Despite this, whatever your favourite is, board games are the skin and bones of a family night in or friendly gathering nowadays, so choosing your favourite board game for a ton of different events is incredibly challenging.
So, we've taken it upon ourselves to deliver our own list of amazing board games for any event. This includes; family nights, friendly gatherings, parties, train or car journeys and small quiet games for two or three people. Some people enjoy different genres too… e.g. strategy, skill and luck, we've taken this into consideration too to ensure we really do find the best overall board games. Also, throughout the list you'll find a few discounts in order to save those pennies should you decide to pick up one of these all-time greats.
We'll be sure to update this page if a new board game worthy of the list has been released, so if you drop in later on in the year you'll be sure to find some new games that tickle your fancy. New releases this year might not be all-new too, this being due to the expected sequels primed for release in 2020 like Frosthaven — Sequel to Gloomhaven– and the spin-off of Villainous.
Here's a quick summary of our list of the best board games in 2020:
Pandemic

Ticket To Ride

Betrayal At The House On The Hill

Articulate!

Blockbuster: The Game

Disney Villainous

Carcassonne

Jaws: The Game

Pinch 'N' Pass

Gloomhaven
1. Pandemic
Our favourite rated board game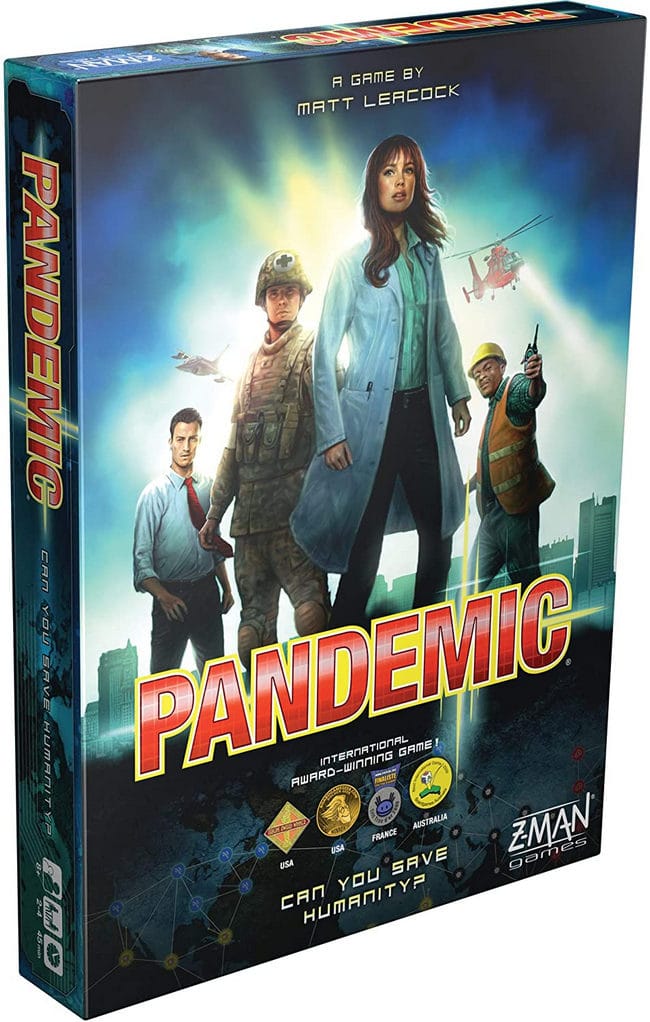 Players – 2-4

Difficulty – Hard

Age – 10+

Duration – 45 minutes
View At Amazon
The game is simple yet not so simple to win, you'll find yourself out of your comfort zone fighting against disease and major, life-threatening global pandemics. To win you must be prepared to utilise your team's ability to communicate, form strategies and plan for future threats. This game is easily one of the best overall cooperative games ever made on the board game market.
The main objective is straight forward. Other than protecting the public against outbreaks, your main goal is to attain Five cards of each colour in order to create a cure for each disease. Sounds simple am I right? Well, listen to this. Every turn you'll find a new infection pop up, if you leave these to become three infections in one area they'll spread to the next city over and so on. What's more, the number of different infections that the game introduces increases every epidemic. Eventually, this will become extremely stressful, and trust me, anxiety levels will rise. You'll most likely find your stress levels rise too wondering whether cures are more important than diseased population? That's one of the many joys of this game.
If this game isn't challenging enough, go pick up Pandemic Legacy Edition. This game isn't for the faint-hearted, every move you make will influence the next game and the next and the next, punishing you even more for your mistakes.
2. Ticket to Ride
Best all-round for all ages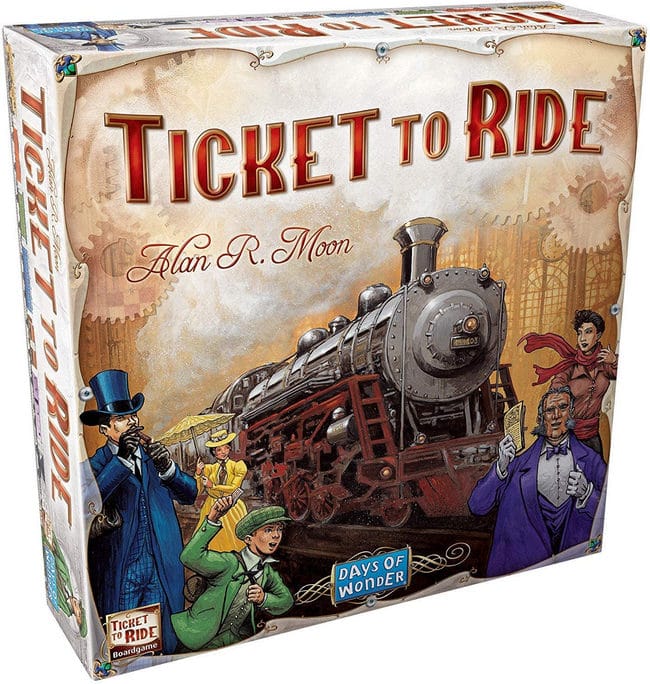 Players – 2-5

Difficulty – Easy

Duration – 60 mins

Age – 8+
View At Amazon
If you're looking for a board game accessible for all ages then Ticket to ride is for you. Although it is appealing to young audiences as well as the old, this doesn't make the game easy in the slightest. The idea revolves around the players creating their own train routes on the map. This essentially gives you points, and in the end the player with the most points wins the game entirely. You receive bonus points for completing specific routes which you draw before the game starts, and also by being the player with the longest route at the end of the game. 
The board is set in North America, yet there are many, many other boards on the market to buy which offer a fresh change and also require a change in strategy and general game tactics.
3. Betrayal At House On The Hill
Play again and again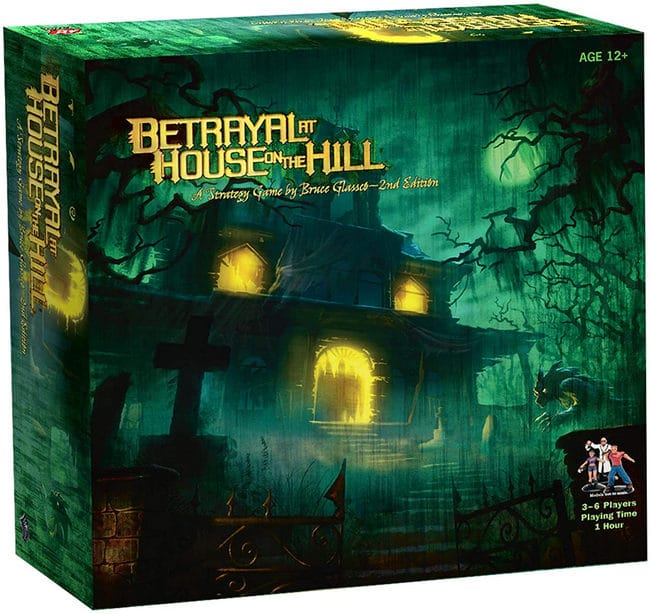 Players – 3-6

Difficulty – Medium

Duration – 60 mins

Age – 12+
View At Amazon
Are you into horror movies? Ever wanted to be in one? Well, this board game could be the one for you. You'll find yourself choosing and playing as a character from 6 common horror film appearances, creepy girls, zombies and all the like. After, all 3-6 players are released into the mysterious mansion where an ominous adventure awaits.
This adventure is not to be easy, neither will it be an adventure without tense interactions with other players. As you and your fellow players move through the house, you place down tiles, all of which are drawn at random. This ensures that each game you play is unique and completely different from your previous games. Each room can hold events ranging from mild creepiness to 'Omens'. These Omens launch an event which too are drawn at random. These Omens could launch one of many attacks, for example;  The house begins sinking into a swamp, a serial killer frantically chases down every player until they're all dead. No matter what happens, the game suddenly becomes very cooperative. Should you choose not to cooperate, you'll surely find yourself dead! If you find yourself to be a traitor, you have a special task. Kill everyone basically. You'll be revealed at some point and when you are, you'll have to be a little bit clever with your plans. 
Once you have mastered the game and you fancy a challenge. Make sure to pick up the legacy edition. This is a largely more difficult game that introduces consequences to the next game if you make a choice in your current one (i.e. Persistent gameplay).
4. Articulate 
Play with ALL your friends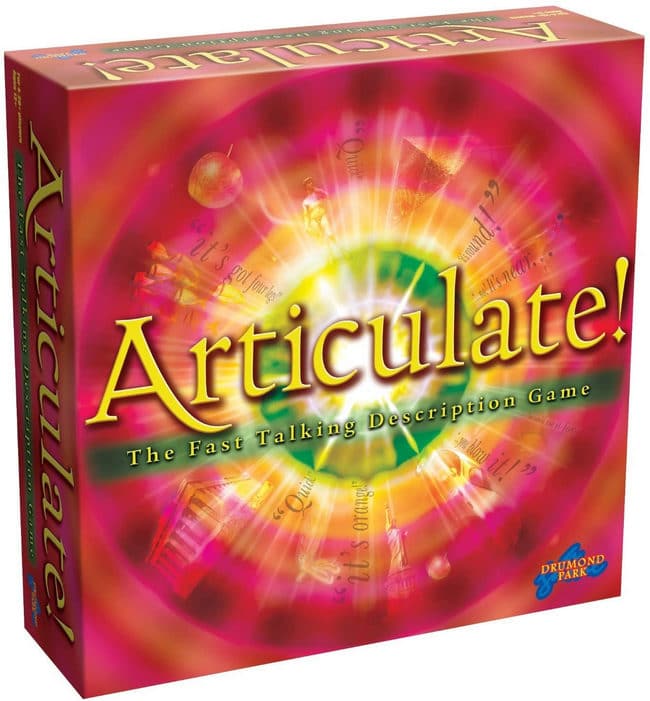 Players – 4-20+

Difficulty – Medium

Duration – 30-60 mins

Age – 12+
View At Amazon
If you're at a party, family gathering, or in fact any event with a large number of people, articulate! Is the game you need. It's a trivial classic and unlike almost every game on the board game market, this game can be played with 20+ players. Just ensure that your players are split into 2 per team!
The game isn't complicated. The rules are simple and easy to grasp too. On a rotational basis, each team takes it in turns to describe the word that is shown within a certain category in 30 seconds. Saying that the word rhymes with something or that it is 'like' something is cheating! The categories are fairly vast, covering subjects such as Nature, geography and films so should you struggle with one category, there are plenty of others.
5. Blockbuster: The Game
The trivia of all trivias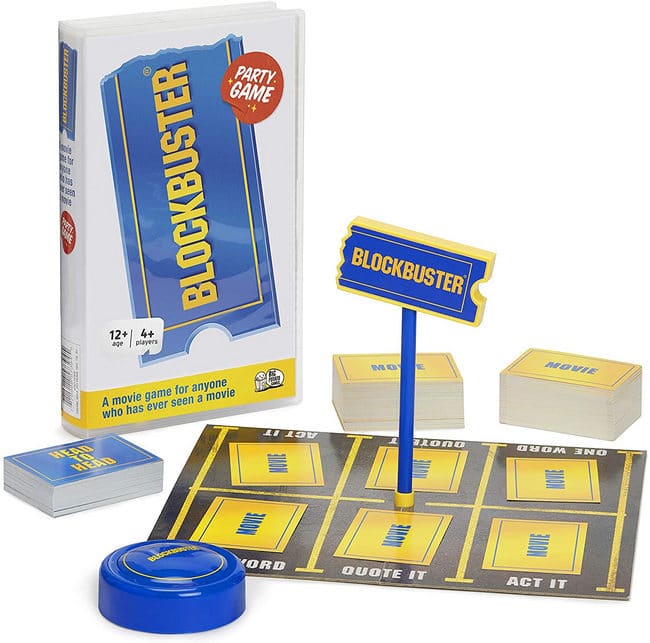 Players – 3-6

Difficulty – Easy

Duration – 10-40

Age – 12+
View At Amazon
Absolutely essential for parties where the drinks are on the go and the mood is high. This is a fast-paced trivia game that'll test your knowledge of movies from both the present and the past. Themed around the VHS, you'll also feel a large sense of nostalgia whilst playing this game.
The primary objective is to, as a team, obtain an entire collection of 8 genre cards where each turn features a one vs one round. The players will be given a film category (e.g. Spy Movies) and both teams take it in turns to shout out a film that correlates to that category. If you run out of time thinking, you lose. If you win, you get to pick 6 cards with movie names for the next portion of the game, the charades. You can act, quote and describe one of your 3 cards to your team for them to guess. That's where winning the first round comes in. You get to keep the easiest cards to yourself and give the opposite teams the hardest 3 cards. You'll only get 30 seconds to describe so act fast!
The game isn't made for people with extensive knowledge of movies, it is made to appeal to all. No in-depth trivia, therefore more accessibility.
6. Villainous
Best tactical board game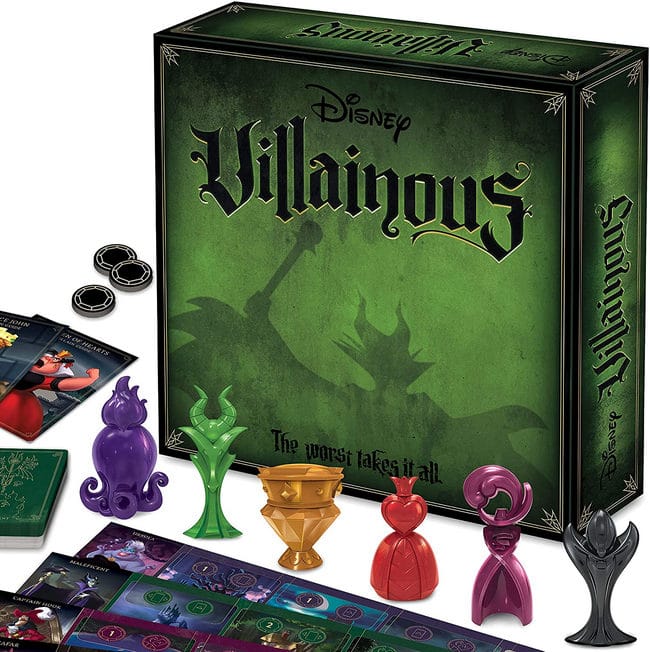 Players – 2-6
Difficulty – Medium
Duration – 50-60 mins
Age – 10+
View At Amazon
This game takes the "does what it says on the tin" approach. It really does bring the worst out of you but in a good way! The game is unexpectedly detailed, this being both through the complexity of the game and the actual playing pieces themselves. The game isn't easy to explain but you'll be more than into it once you play it for yourself.
The game is based on classic Disney films. You'll get to be your favourite villains from your favourite Disney films. All villains have their own objectives, for example, maleficent has to curse all areas of the board, Jafar has to get the genie lamp, Ursula wants Triton's Trident etc. You'll find that each villain has separate special abilities, this gives a unique twist that can give some players an advantage in certain situations.
The game never gets old, especially when there are multiple expansions you can buy to add to your game!
7. Carcassonne
An Absolute Classic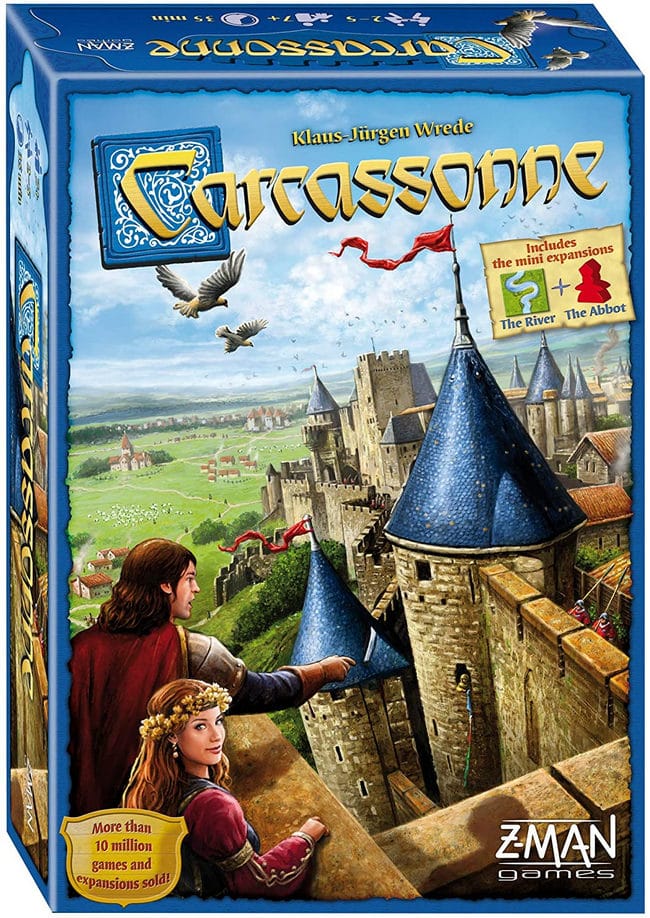 Players – 2-5

Difficulty – Medium

Duration – 40 mins

Age – 8+
View At Amazon
This is easily the most classic board game on this list. There's also a whole bunch of digital versions of this game, although nothing is better and more satisfying than physically completing a city with your own hands.
The game was first made in 2000, based on the idea of creating the board yourself. Essentially the game runs on one premise… Dominate as much of the southern french are by strategically placing little wooden people. You'll earn points for completing cities, roads and connected fields, the player with the most points at the end wins. The game is easy to pick up yet very difficult to become good at. The tactical thinking required to defeat your opponents is substantial and so that makes the game equally as substantial to master.
The game also comes with many expansions, these expansions take place in different parts of the world, the Amazon jungle and the wild west are just a couple to name yet there are a lot more available to buy!
8. Jaws: The Game
Best Movie based Board Game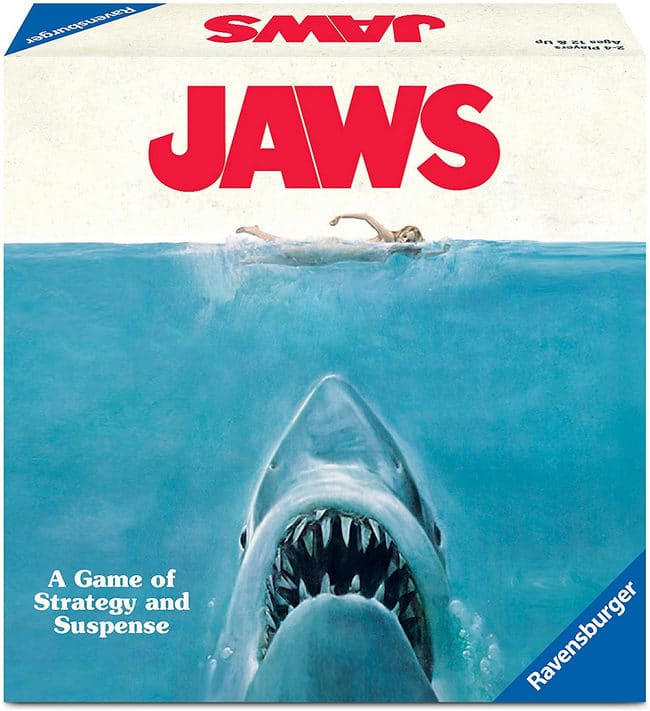 Players – 2-4

Difficulty – Medium

Duration – 40-60 mins

Age – 10+
View At Amazon
One player is the shark. The rest, helpless swimmers. This game is based on the 1975 film "Jaws". The game is a mainly cooperative game built on a cat and mouse structure, where if the mice don't work together as a team, they'll soon be in the cat's belly (i.e. the shark's belly!).
The first phase of the game takes part on Amity Island as seen in the movie. The players playing as swimmers have to defeat the shark, whilst the player controlling the shark has to eat all the swimmers! During the game, swimmers draw cards which either help or work against them; these are critical to winning the game. To make matters worse for the swimmers, they have no idea where the shark is or is moving to, this creates a very scary and gripping atmosphere that sets Jaws apart from other board games. The second phase is a fight to the death on the ship "Orca". The winner of the previous phase will get a distinct advantage here.
9. Pinch 'n' Pass
Better be quick!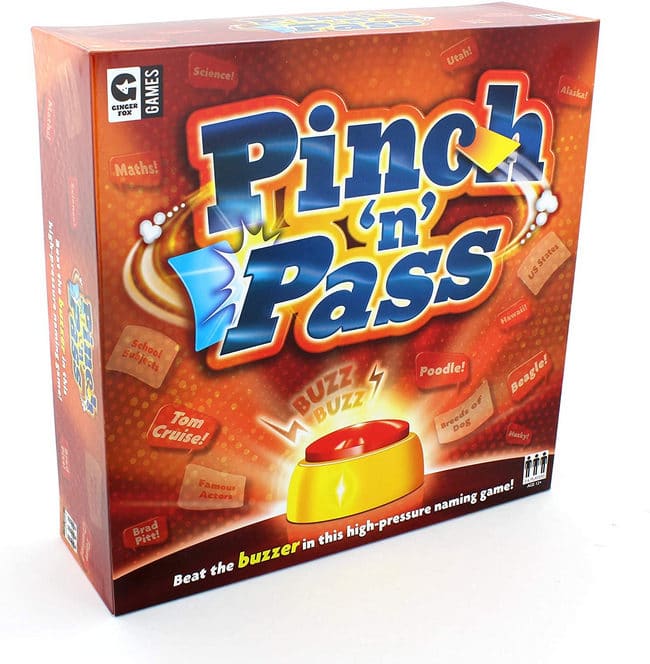 Players – 3-6

Difficulty – Easy

Duration – 10-40 mins

Age – 12+
View At Amazon
The game when explained may sound rather straightforward but that is never a bad thing. The beauty of this game is its simplicity, Anyone can sit down and learn the rules in less than a minute. It's also very appealing to those of you impatient ones out there because you don't even have to wait your turn!
There are two types of rounds, pass and pinch. If a pinch card is drawn the idea is to be the player holding the card when the timer runs out. The card will have a category on it e.g. "Tom Cruise Movies" and the first person to shout an answer takes the card and starts the timer. If another player shouts an answer, they "pinch" the card. This continues until the timer reaches zero. If a pass card is drawn then the rules are slightly different. The player starts with the card and has to give an answer to pass it away. The player left holding the card at the end of the timer loses the round. Very tense, and very harsh.
The fun little twist is this; The timer is completely randomised, you could be fighting for 10 seconds, 30 seconds or even 60 seconds!
10. Gloomhaven
Time to Roleplay!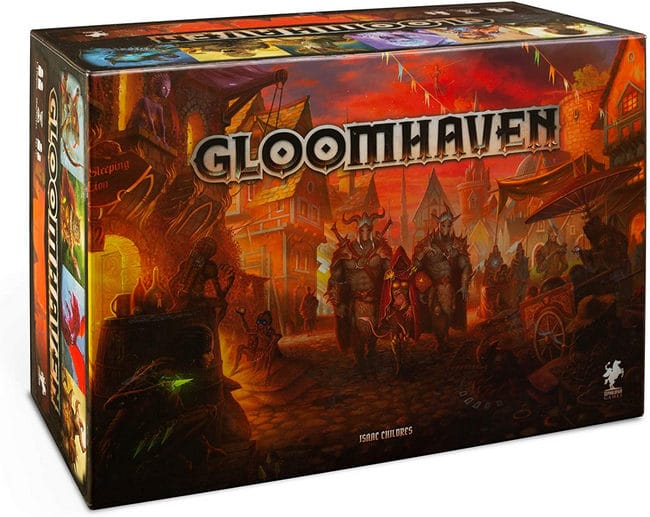 Players – 1-4

Difficulty – Medium

Duration – 60-120+ mins

Age – 12+
View At Amazon
This game is the pinnacle of family roleplay adventures. The game comes with tons of characters and over 1700 cards. Each game has persistent consequences that carry over to multiple games, this is a small scale introduction to games such as Dungeons and Dragons and other large Role-playing games. The characters are chosen completely at random too so you won't always get your favourite.
The game features well over 50 missions for your group to battle through. Along the way you can gather loot via turned based combat, interaction cards and more. The game is so incredibly in-depth that it will take a long, long time for you and your group to fully explore every aspect of the game and all of it's cards. This is really a must-buy if you are very much persuaded by the depth and playability of board games, the only counterbalance to the incredible depth and playability is the price. Yet, don't be discouraged, it really is bang for buck because it will keep you going for months and genuinely does keep you hooked over and over each time you play.