The day has finally come, we have all been waiting to hear this news for years so this is a huge leap for gamers and developers alike. PS4 cross-play is really happening and many cannot believe it's taken so long.
PS4 players have always felt a little isolated from the Xbox and Switch owners out there as Sony has been extremely strict on a no PS4 cross-play policy between the other major consoles. It seems now that Sony have bit the bullet and finally gave in to the peer pressure from the fans and gaming industry alike.
After PlayStation announced the news on Twitter, Xbox didn't take too long to have some bants: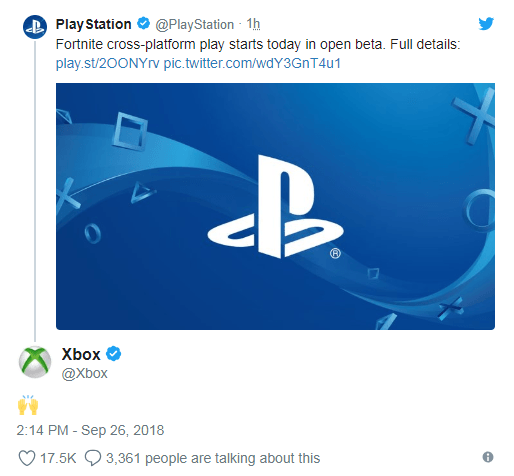 So what's happening?
Starting today with a Fortnite beta, PS4 players will be able to join their mates over at Nintendo Switch, PC and Xbox One which breaks down a heck of a lot of barriers from a PS4 player base perspective.
In a post that came only today from John Kodera, Sony Interactive Entertainment boss, the news flowed freely, here's what it said:
"Following a comprehensive evaluation process, SIE has identified a path toward supporting cross-platform features for select third party content. We recognize that PS4 players have been eagerly awaiting an update, and we appreciate the community's continued patience as we have navigated through this issue to find a solution.
"The first step will be an open beta beginning today for Fortnite that will allow for cross platform gameplay, progression and commerce across PlayStation 4, Android, iOS, Nintendo Switch, Xbox One, Microsoft Windows, and Mac operating systems. We see the beta as an opportunity to conduct thorough testing that ensures cross-platform play is best on PlayStation, while being mindful about the user experience from both a technical and social perspective.
"For 24 years, we have strived to deliver the best gaming experience to our fans by providing a uniquely PlayStation perspective. Today, the communities around some games have evolved to the point where cross-platform experiences add significant value to players. In recognition of this, we have completed a thorough analysis of the business mechanics required to ensure that the PlayStation experience for our users remains intact today, and in the future, as we look to open up the platform.
"This represents a major policy change for SIE, and we are now in the planning process across the organisation to support this change. We will update the community once we have more details to share, including more specifics regarding the beta timeframe, and what this means for other titles going forward."
This announcement has come just a day before Fornite's season six was due to arrive for each platform except PS4. Now though with everyone renewing their Battle Pass it means PlayStation can be in on some of that shell-shocked moolah if players buy through their PS4.
With games like Fortnite, Rocket League and Minecraft already supporting cross-play it's no wonder the fans of PlayStation have been kicking up a stink for so long – their prayers have now been answered though.
Why has it taken so long for PS4 cross-play?
Rather than it being something that's been put down to a technical issue it was admitted by the PS boss that in fact it was more about money, more of a promotional stance than anything else.
From a technical perspective the capability wasn't something that'd be too difficult to implement – stubbornness really springs to mind.
---
Which game would you like to see Ps4 cross-play on? We have a few shooters we could name…