Both Red Dead story and Red Dead Online players will have been itching for the Red Dead Redemption 2 patch 1.09 to drop – the good news is it's finally arrived. The patch was delivered to improve support for HDR as well as bring the game's online mode out of the beta stages. Ambient occlusion was also discussed as being improved, with the Red Dead Redemption 2 patch 1.09 to see if there was in fact visual quality reductions. We're looking at whether HDR is in fact sorted, and we're pleased to confirm the outcome of the Red Dead Redemption 2 patch 1.09 appears to be a good one.
Red Dead Redemption 2 patch 1.09 – just what the doctor ordered
Thanks to the Red Dead Redemption 2 patch 1.09 we've been given some great results which arguably should have been in one of the earlier updates. Checking out the calibration setting now gives us two options; game and cinematic mode. Additionally there is calibration tweaks that can be user-customised to ensure paper white and sharper brightness. When we compare the two calibration modes the game mode looks much more saturated than that of cinematic. This isn't too much of a surprise considering the original HDR implementation that came with Red Dead 2 was essentially the same as cinematic mode.
If you're really looking to see where the most dramatic upgrade to HDR comes in as part of the Red Dead Redemption 2 patch 1.09, then its in game mode. Rendering for the sun interacting with the atmosphere are impressive, contrast is looking much more positive where the sun pierces through windows while the darker corners contrast dramatically. If this impressive HDR experience had been in place on launch day, it would have truly blown away fans. With the two cinematic and game modes, it's quite interesting to see the differences between the HDR mechanics.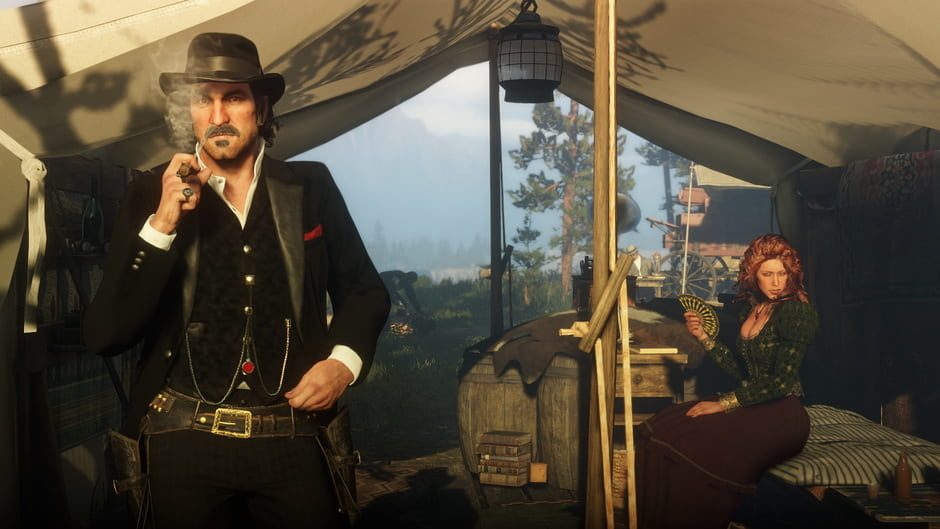 By no means has the Red Dead Redemption 2 patch 1.09 given us a fool-proof HDR implementation, in reality sunshine should provide the biggest source of light in the game, yet testing this new HDR support shows us this only hits around 90 percent accuracy to what we'd expect. On the flip side, the darks we would expect are an off black in colour and not as pure as we might like, what causes this is potentially to do with the colour grading – but only the guys at Rockstar will know the real reason.
Red Dead Redemption 2 patch 1.09 are allows us to achieve the best HDR output effortlessly, you'll recall with most games adjusting the brightness until a game image is faint/not visible – Red Dead 2 is the same. Simply adjust the setting until the Rockstar logo is less visible, due to that shortfall in blacks/dark colours it may be worth adjusting a little more to accommodate. In order to adjust the settings for the paper white you'd be best to think of the whiteness of a piece of blank paper as a rule of thumb.
making the above adjustments won't result in perfection to HDR, but it's certainly an improvement. When comparing tone-mapping of SDR with HDR you may find an increment of desaturation, an if that's the case it may be worth leaving the game in SDR if this proves a problem. If your TV or monitor is up to it though, based on our play following the Red Dead Redemption 2 patch 1.09, game mode is the way to go for HDR.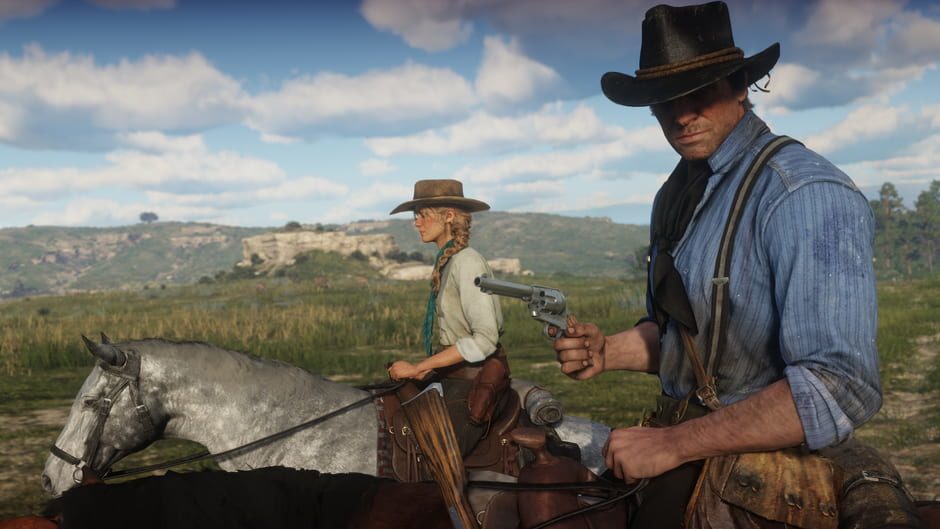 According to the Red Dead Redemption 2 patch 1.09 patch notes, ambient occlusion was apparently improved in patch 1.02 which was in place to make things run a bit smoother – which supposedly coincides with reports from Dualshockers. Other sources suggest that this change was actually implemented in patch 1.06. The uncertainty then drifted further after comparison images emerged showing the AO adjustment was actually irrelevant based on lighting at different points of the day.