Shadow Of The Tomb Raider Road Map is looking great
Last Friday we were given the very first insight into the rebirth or the Tomb Raider – Lara Croft. It goes without saying that we are going to be looking at one of the darkest additions to the franchise so far, especially from the trailer we've been teased with below.
Although the game is still a way off from release, the team at Square Enix have given us an insight into what the game has on offer, along with a Shadow Of The Tomb Raider Road Map showcasing all of the DLC for the next year.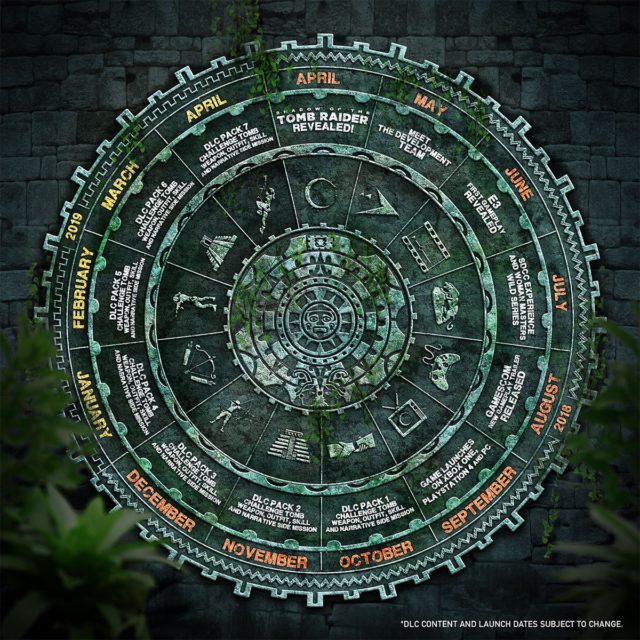 Let's break down the Shadow Of The Tomb Raider Road Map
In a nutshell there are a whopping total of seven DLC packs planned ahead of the game's release in September. The first pack will arrive in October which will provide a new Tomb challenge for you to get your tools into.Aside from the challenge, there will also be a side quest, a new weapon, and an additional outfit within each DLC pack.
Details about the cost of the season pass are limited at the moment, however the likelihood is that the base game will come bundled with the season pass at an additional cost as well as being available separately
Why isn't the content already in-game?
When fans saw the Shadow Of The Tomb Raider Road Map above they were fairly concerned as to why these items weren't already part of the main game. This is obviously understandable as a concern, but with the current trend with games this appears to be to ensure a prolonged lifespan – let's just hope there's plenty ofg Lara in the main title.
The Shadow Of The Tomb Raider Road Map gives us a good indication of when the updates will be and what we can expect after the game launches. Further details will be available during E3 2018 in June followed by Gamescon in August.
Keep your eyes open as we'll be updating as and when new updates are available.