Kings Canyon is one of the more unique maps among the most recent battle royale games today. The Apex Legends map has a variety of segmented areas which could almost feel like they're on a separate map completely.
Although in comparison to other battle royale titles, kings Canyon is a lot smaller in size, at least it feels like it. When comparing to rival Fortnite for example, there's not so much room the manoeuvre around the space provided.
Apex Legends map – Kings Canyon Overview
The following image is the Kings Canyon map in all its glory.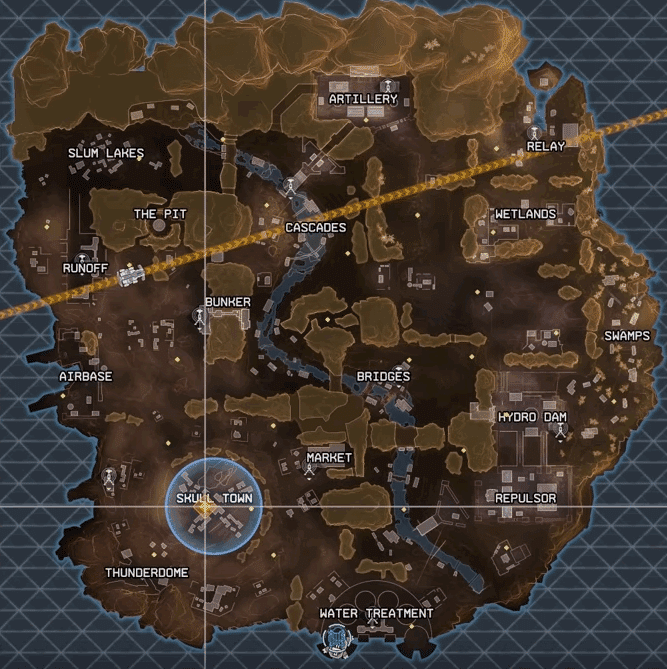 Take a peak at the map above, and you'll see that it's segmented into a total of seventeen areas, each having its own bespoke feel.It almost feels like the devs at Respawn had a whole Kings Canyon map, and thought 'Hey lets cut this into lots of little battle royale areas.'
Of course by no means is this a bad trait, as it does show that each area has been given its own TLC, not just given the same paintbrush treatment. In the various locations, as you move between them you constantly have to rethink your tactics – especially if you bump into an enemy team on your way.
Anyway, lets get on with the first Apex legends map, prior to the launch of the next season launching in March as per the Apex legends roadmap.
getting to know the Supply Ship, Hot Zone, Supply Drops and Respawn Points
Anyone who hasn't ventured into Apex Legends just yet are going to be wondering would the various attributes throughout the map represent, and why you need to know about what each one does.
Here's the hot zone
Much like other battle royale games, the hot zone will be signified by a blue circle on the Kings Canyon map. Get inside the circle to find the highest quality loot, and in larger quantities than the rest of the map. Getting to the inner circle also increases your chances of looting a weapon with awesome attachments already added – nowhere else on the map seems to offer this.
Jump into the hot zone (blue circle) and nab a kill to gain additional XP, this is great for those wanting to brush up on your skills. If you want to be more sneaky and tactical the Apex Legends hot zone isn't the best option.
Supply Ships are the way forward
If you've already been playing Apex legends, you'll likely already have seen the overhead aircrafts slowly moving across the map. The Apex legends supply ship will be similar to that of what you start a match in, although this one will contain some loot worth grabbing hold of.
When you begin a match you'll immediately be able to spot it on the map with its final destination highlighted in green, you're able to land on the supply ship from the drop ship on the map.
The supply ship will launch a series of ziplines throughout the match, and sporadically appear to allow Legends to get a leg up from the ground – this is awesome for gaining a head start over opponents.
This is how respawn points function
Check out your main map to see the green dots to signify Apex Legends respawn points, or alternatively your mini-map and you'll be able to see them marked with a green diamond. As time passes you'll get used to where the respawn points are located, as they don't disappear or change.
If one of your team mates gets completely taken out of the match as opposed to just being downed, interact with their Death Box which only appears after a death to collect their beacon.
After collecting the beacon head to a respawn point and your buddy will be back in the match, emptied of their ammo, and any other equipment they had before dying. After a teammate respawns ensure they check near the respawn point as there's usually a barrage of supplies nearby.
Here's the scoop on supply drops
Using Lifeline's ultimate you will be able to call in a supply drop quite easily, the second type of supply drops will appear organically as time passes by. Loot that drops from lifeline's ultimate often only contain low level loot, rarely containing Legendary gear. Supply drops that appear naturally will more likely contain some of the best apex Legends weapons or apex legends attachments inside.
Are there new Apex Legends maps coming?
At the time of writing this article Apex Legends matches last for an average of anything around twenty minutes, and this unfortunately comes down to kings Canyon being a rather small map. You can cover the various areas of the map in fairly quick succession do to features like ziplines which get you from a to b.
The good news is that Respawn has already put together an Apex legends 2019 roadmap which details some of the great new features coming this year. Additionally Vince Zampella, Respawn CEO told Venturebeat that "There will be new maps, new modes, new characters, new weapons, new skins. There will be a ton of stuff coming over the next year to 10, maybe. It depends on how successful it is."
Coming from Respawn's top guy, this says it all really that good things are coming – although whether Apex legends can ride the wave for 10 years remains to be seen.
Looking for more Apex Legends guides? We've got you covered, everything from Apex legends character classes to the best Apex legends Weapons.