After a comms went out to the staff at major games retailer GameStop, Sony has announced that PS4 digital game codes are going to be scrapped from all retailers supplying codes in physical and online stores.
With this announcement comes the fact that soon we will only be able to purchase PS4 digital game codes directly from the PlayStation Store via PSN.
When is the PS4 digital game codes change coming?
The comms that went out to GameStop specified the PS4 digital game codes amendment will go live on April 1st,  but it's worth noting that the change will only apply to full games and not to DLCs or PSN wallet funds/top-up cards. The change also sees Sony placing larger wallet top-up amounts available to purchase, in addition to season passes and other content not classified as a full game download.
GameStop stores just got a memo saying that Sony will no longer provide full game digital download codes to retailers (not just GameStop) starting April 1st. Digital games will only be available straight from PSN after that date. Add-on content/PSN $ cards will still be available

— Wario64 (@Wario64) March 22, 2019
Here is the full text outlining these changes (Sony full game digital codes at retail) pic.twitter.com/wY39bWyhaj

— Wario64 (@Wario64) March 22, 2019
The memo to GameStop reads "We can confirm that as of April 1, 2019, Sony Interactive Entertainment will no longer offer full games through SIE's Global Digital at Retail program. This decision was made in order to continue to align key businesses globally. To support full games and premium editions, SIE will introduce increased denominations at select retailers. DLC, add-ons, virtual currency, and season passes will still be available."
What the PS4 digital game codes change will mean for the UK retail stores is that they'll need to try and shift their remaining stock of full game codes. Stores like Smyths Toys don't have any full game PS4 digital game codes advertised online, and instead only stock add-ons and top-ups. Game on the other hand still have PS4 digital game codes such as The Inpatient available to download – guess that's okay though being the deadline hasn't hit just yet.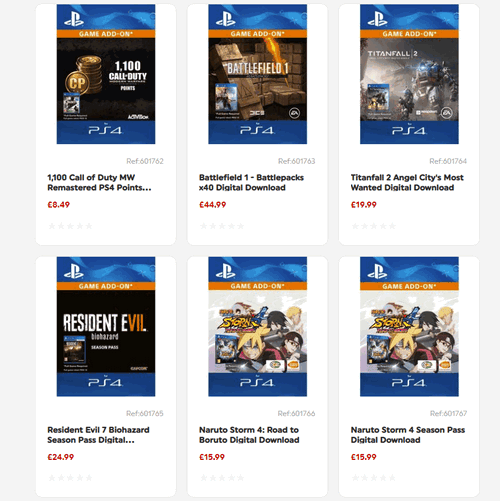 The constant battle to go completely digital is well underway, not only are the PS4 digital game codes going but there's also a Disc-less Xbox one S coming!