After Ubisoft announced at E3 2019 that a free weekend for The Division 2 was coming up, more players than ever began jumping into the game. If you're one of the newcomers, you may be wondering what The Division 2 Dark Zone unlock requirements are. The Division 2 Dark Zone is a chaotic battlefield with PvP action and offers a real veteran challenge at the very least. One of the great aspects of the Dark Zone though is the fact that you can get some very high-tier gear, of course that's once you take down some high-tier enemies. Here's The Division 2 Dark Zone unlock guide which details everything you need to know.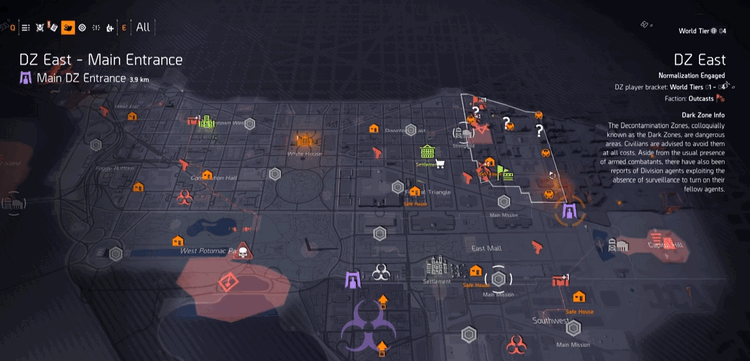 The Division 2 Dark Zone unlock – the basics
If you're finding the traditional gameplay of the Division 2 a little too simple, then the Dark Zone is the place for you. The thing is though, it's not as straightforward as heading there right away. To get The Division 2 Dark Zone unlock you will need to head to Downtown East and unlock your first settlement – the Theatre which is in the beginning of your journey.
Unlock the theatre and you'll be one step closer to The Division 2 Dark Zone unlock, and once you've had a few encounters with Odessa Sawyer you'll find a series of projects becoming obtainable at the Theatre settlement. Senait Ezera is the woman you are going to need to recruit and add to your team, and you can do this at the Base of Operations once you have completed three upgrades to the Theatre. To do this you'll need to polish off the projects that are available to you by completing various activities and donating required items (gloves, vests etc.).
Senait Ezera won't be available to recruit until you have added both Grace Larson and Inaya al-Khaliq to your team. You might find she doesn't appear for recruitment even though you've recruited the others, and if that happens go off to finish an activity and then come back. Ezera should be located past the loading docks of towards the end of the alleyway.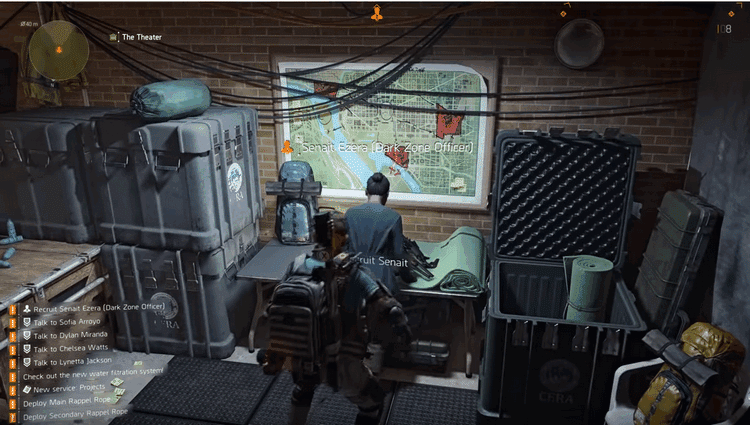 The last step of The Division 2 Dark Zone unlock requirement is to follow the tasks that Ezera gives you by heading to the missions area. The task essentially gives you a how-to on how the Dark Zone works so it's not going to be too tricky. Once complete you can head to either Dark Zone West or Dark Zone South to attempt the various missions. Be warned, this ain't going to be easy!